3D Does Little to Improve The Lion King
Christa Banister, Crosswalk.com Contributing Writer
Friday, September 16, 2011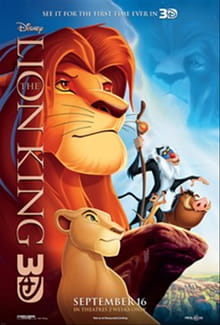 DVD Release Date: October 4, 2011
Theatrical Release Date: September 16, 2011 (in theaters for two weeks only)
Rating: G
Genre: Family, Animation, Comedy
Run Time: 89 min.
Voices by: Matthew Broderick, Niketa Calame, James Earl Jones, Nathan Lane, Jeremy Irons, Rowan Atkinson, Moira Kelly, Whoopi Goldberg
While there's no doubt that 3D technology was utilized in a particularly inspired fashion in 2009's Avatar, the novelty of this supposed eye-popping imagery has more than worn out its welcome—not that Hollywood has seemed to notice.

Much like modern cinema's seemingly incurable case of sequel-it is (it's hard to believe the masses really demanded a fifth installment of Final Destination, after all), the collective sighs of movie fans suffering from 3D fatigue, not to mention the sticker shock for the privilege, are being ignored, too.

If anything, the potential for bigger box office returns is only motivating everyone to jump on the bandwagon, even inspiring studios to create "special events" by "updating" beloved films like Disney's The Lion King.

Now don't get me wrong, there's nothing inherently wrong with reintroducing a wonderful film to the younger generation who missed it the first time around. Even 17 years later, The Lion King is still a thrill to watch, and that's really saying something considering how far animation has come since 1994.

But memorable storytelling is still memorable storytelling no matter how much time has passed, and The Lion King has that in spades. But merely presenting the film in 3D format does little, if anything, to improve upon the original. While the opening "Circle of Life" sequence has a bit more pop, those 3D glasses are practically useless after those first few minutes because everything looks pretty much the same as before.

Despite the lack of a dramatic improvement aesthetically, however, The Lion King still can't help but stick with you. Not only is the soundtrack just as singable (and yes, we had several audience members singing "Hakuna Matata" at our screening), but the characters (Simba, Nala and their motley crew of sidekicks) still delight, whether they're joking around in spectacularly witty fashion or tugging at your heartstrings when the situation turns perilous.

For those who don't remember the storyline, here's a brief recap. After the current king of the jungle, Mufasa (James Earl Jones, Welcome Home Roscoe Jenkins) and his wife welcome their cub, Simba (former TV star Jonathan Taylor Thomas), into the world, Mufasa's jealous brother Scar (Jeremy Irons, The Pink Panther 2) is no longer second in line to the throne. Sensing an opportunity to exploit his precocious nephew's naivete, he convinces Simba that he was responsible for his father's death, even though he was the one who takes his life.

Unable to show his face again, Simba eventually runs away, thus abdicating his throne to Scar, who is more than happy to take over in his absence. But as famine sets in Simba's former home, he's eventually offered an opportunity to redeem himself.

Filled with powerful themes and appealing characters, both in the lead and supporting roles, The Lion King is yet another reminder that a barrage of pop culture references and below-the-belt humor aren't prerequisites for a good time. With a story that's universally appealing and a focus on the importance of family and stepping up to the plate when responsibility calls for it, it's a universal crowd-pleaser for kids and their parents.

But whether you need to re-live the experience in 3D is another story entirely. Certainly there are worse ways to spend an afternoon at the movies, but popping your own popcorn and watching the new DVD version (Blu-ray and Blu-ray 3D) that's releasing October 4 instead will definitely save you money, not to mention the feeling that seeing The Lion King in 3D wasn't really worth all the hype.

CAUTIONS:
Have something to say about this article? Leave your comment via Facebook below!
advertise with us
Example: "Gen 1:1" "John 3" "Moses" "trust"
Advanced Search
Listen to Your Favorite Pastors