Clichés, Conflicting Values Spoil "Daddy's Little Girls"
Christa Banister, Contributing Writer
Friday, February 16, 2007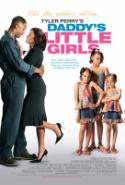 Release Date: February 14, 2007
Rating: PG-13 (thematic material, drugs and sexual content, some language and violence)
Genre: Drama, Comedy, Romance
Run Time: 95 min.
Director: Tyler Perry
Actors: Gabrielle Union, Idris Elba, Louis Gossett Jr., Tasha Smith, Tracee Ellis Ross, Malinda Williams, Maria Howell, Gary Anthony Sturgis
After a series of successful plays including "Madea's Family Reunion," "I Can Do Bad All by Myself" and "Diary of a Mad Black Woman," which eventually became a surprise hit on the big screen as well in 2005, Tyler Perry has gained a devout following for films that portray the African-American community in a more redemptive light.
And while his intentions are certainly noble, Perry doesn't fare well as the writer and director of "Daddy's Little Girls." The story starts with Monty (Idris Elba), a hardworking mechanic who is also a down-on-his-luck father of three. His unfaithful wife Jennifer (Tasha Smith), has left him and his daughters behind to live with a wealthy drug dealer, Joseph (Gary Anthony Sturgis). To make matters worse, the girls' babysitter, Monty's mother, has lung cancer.
After his mom's death, Monty's wife decides for no apparent reason that she wants custody of the girls even though it's clear from the get-go that she's more self-involved than anything. Determined to further prove his skills as a father and provide for the girls, Monty takes a second job as a chauffer for a rich, spoiled, snotty (oh, and beautiful, too) lawyer named Julia (Gabrielle Union).
Of course, in true romantic comedy fashion, Monty and Julia don't exactly hit it off initially. He doesn't open the doors for her fast enough. And instead of following her directions to the office, he dares to take a quicker route, which makes her very impatient. Oh, and he takes a personal call from his daughters on the job and has to go to the hospital immediately instead of taking her home first.
We find out later through countless phone calls Julia makes to her girlfriends in the car that she's lonely and unhappy because she works too much and hasn't found that right guy. Incidentally, the only funny moments of the film come as a result of her plight. Determined to help her find Mr. Right, her friends set her up on a series of blind dates. The scene with the 40-year-old wannabe rapper is hilarious.
Back at the hospital, Monty discovers that Child Protection Services has now granted custody of his kids to his wife and the drug-dealing boyfriend because the girls accidentally set a small fire while waiting for him to come home from work. Devastated, he seeks help from – surprise! – Julia, and a romance eventually blooms, too.
Therein lies one of the film's greatest flaws. While everyone loves a good love story, this rather haphazard one ends up completely overshadowing a father's love for his daughters. Instead of focusing on legal strategy, Monty and Julia spend the majority of the time flirting, drinking and trying to figure out if a relationship between a rich girl from corporate America and a poor-but-lovable guy from the 'hood could ever work.
Furthermore, Perry lacks subtlety when creating characters. Instead of painting with a few shades of gray, he only seems to use black and white. I loved that Monty isn't the typical deadbeat dad that's so often portrayed in films. Yet, his ex-wife is so horrible in comparison (she actually offers her 12-year-old daughter alcohol, encourages her boyfriend's demands for her to sell drugs at her school and tells her to give up her fairy tale dreams) that the story lacks any sort of balance, let alone authenticity.
Have something to say about this article? Leave your comment via Facebook below!
advertise with us
Example: "Gen 1:1" "John 3" "Moses" "trust"
Advanced Search
Listen to Your Favorite Pastors