Delightful Wonder Emporium Sparks Imagination
Lisa Rice, Crosswalk.com Contributing Writer
Friday, November 16, 2007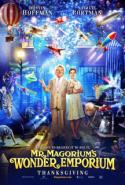 DVD Release Date: March 4, 2008
Theatrical Release Date: November 16, 2007
Rating: G
Genre: Fantasy, Drama, Children
Run Time: 95 min.
Director: Zach Helm
Actors: Natalie Portman, Zach Mills, Dustin Hoffman, and Jason Bateman
What could be better than a huge store displaying every conceivable toy? How about that same store that's also been infused with magic that defies the rules of gravity, time and space? With a special dial that turns the back room into a different imaginative setting each time you turn it? And a lovable, eccentric old man at the center of all the hullabaloo? Well, welcome to Mr. Magorium's Wonder Emporium!
This holiday season, Walden Media (makers of The Lion, the Witch and the Wardrobe) brings our kids a delightful movie that, though it contains some faulty worldview elements, will spark their imagination and teach them a few lessons about loving and living.
The story begins with old Mr. Magorium (Dustin Hoffman) telling his young assistant, Molly Mahoney (Natalie Portman) that he's not going to be around much longer … that it's his time to go. And furthermore, he is bequeathing the whole store to her. The big problem is that Magorium hasn't done such a hot job at keeping the books in order, so he has to hire an accountant, or "a counting mutant," as he calls them. Soon "the mutant" (Jason Bateman) shows up and is horrified to see what shape the books are in. He can't believe it when he sees: invoices, letters, and I.O.U's over one hundred years old—including a thank you note from Thomas Edison. Mr. Magorium assures the Mutant that he's 240 years old, but accountants know better … or do they?
Molly is continually frustrated with the new employee and his skepticism, and she chides him for using the word "just" all the time: "If I could just see … I just want … It just doesn't add up. …" After all, she has believed in Mr. Magorium and all the magic of the store for years without doubting, so why can't he? In addition to dealing with hard skeptics, Molly is sad and frustrated that her beloved boss thinks he's departing. So she does everything in her power to make him want to stay. She takes him on a crazy fun adventure and even has him committed to the hospital to try to keep him on terra firma. Even little Eric Applebaum (Zach Mills), the young boy who kind of works at the store—or just hangs out there all the time—looks past his own current need for friends and gets involved in the plan to keep the owner alive and happy.
To complicate things, however, the store itself seems to have gotten word about Magorium's impending departure, and now it's acting grumpy, depressed, and sulky, like a spoiled brat. It even causes the magic to stop, the colors to dim, and mean old gravity to kick in and stop the toys from flying around the room! It gets so bad that Molly decides to reject Magorium's offer, sell the store, and just take a "real" job like normal people do. Only large doses of faith and imagination—coupled with some unlikely teamwork—will be able to make things right once again in the beloved emporium.
Mr. Magorium's Wonder Emporium is a cute movie for kids from kindergarten through about fifth grade. The film's big takeaway is its sweet characterizations. In so many kid movies, the adults are abandoning, mean, selfish, or unloving, but in this movie there's a warm spirit, and the people are good. Mr. Magorium is full of life, and he freely expresses his love for the people around him.
Have something to say about this article? Leave your comment via Facebook below!
advertise with us
Example: "Gen 1:1" "John 3" "Moses" "trust"
Advanced Search
Listen to Your Favorite Pastors