Killers Lacks Any Instincts—Acting or Otherwise
Christa Banister, Crosswalk.com Contributing Writer
Friday, June 04, 2010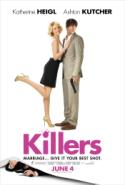 DVD Release Date: September 7, 2010
Theatrical Release Date: June 4, 2010
Rating: PG-13 (for violent action, sexual material and language)
Genre: Action/Comedy
Run Time: 100 min.
Director: Robert Luketic
Actors: Ashton Kutcher, Katherine Heigl, Tom Selleck, Catherine O'Hara, Katheryn Winnick, Kevin Sussman, Casey Wilson, Usher

Given many filmmakers' preference for dazzling visual thrills over intrinsic screenwriting smarts, a willing suspension of disbelief is often required when watching most movies these days.

But when someone really expects me to believe that Ashton Kutcher (yes that Ashton Kutcher of Punk-d and Dude, Where's My Car fame) is an armed assassin who speaks three languages fluently and wants nothing more than a normal suburban life, well, that's simply asking too much.

See, Ashton may be the second most popular person on Twitter, but trust me, Killers is truly a movie only his mother could love. Not only is the flick sorely lacking instincts of any kind, but the only chuckle in this nearly plot-free endeavor is a wisecrack about Kutcher's character Spencer learning his mad gun skills in 4-H.

And yes, I realize I just mentioned 4-H in a film review…

See, creativity isn't exactly the screenplay's strong suit (especially in the joke-writing department) but then again, neither is the noisy, poorly constructed madcap action. And charm, an absolute must for a silly, throwaway story like this to work, is also in seriously short supply as the movie pairs Kutcher with Katherine Heigl.

For whatever reason, Heigl has been heir apparent to Reese Witherspoon's romantic comedy throne of late, a fact that still surprises me considering she doesn't play cute very well (see 27 Dresses, The Ugly Truth). And sadly, Killers, is no exception, but if anything, it makes Heigl's Grey's Anatomy days look downright sparkling in comparison.

This time around, Heigl really seems more annoyed than anything as the recently dumped computer nerd named Jen. Apparently, the real trouble with Jen's love life is that she doesn't take any risks, something we discover because of her apparent reluctance to try bungee jumping with her ex because throwing up in public is embarrassing.

But when Jen meets the perpetually shirtless Spencer while on vacation with her parents (Tom Selleck and Catherine O'Hara, respectively, both in thankless roles) in the South of France, all bets are off when Jen seems to have finally met her reliable, drama-free match. In fact, she's so sure that she marries him like two seconds later. After all, there's no problem that a killer set of washboard abs can't fix, right?

Swearing off for good his old life as a killer-for-hire, Spencer and Jen eventually settle into comfortable married life in the 'burbs for three years before things go horribly, horribly wrong. Friends to even their most eccentric neighbors, block parties, peach crumble bake-offs and surprise birthday parties are about as crazy as their life gets—well until Spencer's old life catches up with him, naturally.

Rather surprised that her seemingly normal husband is now a hunted man who used to (gasp!) kill people, Jen doesn't exactly react well to the news. But before she even has much time to continue her vocal hysterics, bullets are whizzing by and she and her hubby are running for their lives.

To say much more would ruin the element of surprise, not that there really is any in Killers. If anything it's just an excuse to watch two relatively pretty people play roles that aren't right for them in any way, shape or form—a fact that even their marketing team seemed to get when they didn't allow Killers to be screened in advance for critics.
Have something to say about this article? Leave your comment via Facebook below!
advertise with us
Example: "Gen 1:1" "John 3" "Moses" "trust"
Advanced Search
Listen to Your Favorite Pastors