Roll Out the Welcome Mat for Meet the Browns
Christian Hamaker, Crosswalk.com Contributing Writer
Monday, March 24, 2008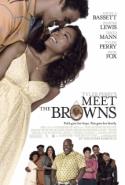 DVD Release Date: July 1, 2008
Theatrical Release Date: March 21, 2008
Rating: PG-13 (for drug content, language including sexual references, thematic elements and brief violence)
Genre: Comedy
Run Time: 100 min.
Director: Tyler Perry
Actors: Angela Bassett, Rick Fox, Lance Gross, David Mann, Margaret Avery, Jenifer Lewis, Tyler Perry, Irma P. Hall
Martin Lawrence, meet Tyler Perry. You could learn a thing or two from him.
Lawrence, you'll recall, recently starred in Welcome Home Roscoe Jenkins, about a big-city TV host who travels down South for a family event. The film was crass and vulgar, resorting to animal sex for its most memorable (in a bad way) scene, while religion was little more than a punch line among its characters.
Perry's Meet the Browns succeeds in every area where Roscoe Jenkins failed. Generous in its spirit and sweet-natured in its ribbing, the film offers a strong endorsement of Christian faith and perseverance while delivering plenty of laughs. A few references to prostitution and to the temptation of drugs keep the film from being for all audiences (it's rated PG-13), but adolescents and older viewers will find plenty to like here.
Life has been hard on Brenda (Angela Bassett), the mother of three children fathered by three different men. Her oldest child, Michael (Lance Gross), shows promise as a high-school basketball player, but Brenda sees threats all around Michael—from the sports agents that begin recruiting him to the childhood friend who's become a drug dealer. When Brenda suddenly loses her job, the promise of drug money becomes a stronger lure for Michael, who's grown tired of watching his mother work long hours to support the family.
Mildred (Irma P. Hall), the daycare provider for Brenda's young daughter, chastises Brenda for falling behind on her payments and threatens to no longer look after the young girl. Brenda's excuse about the lack of child support from the girl's father carries no weight with Mildred, but instead of completely cutting off Brenda, Mildred sits her down and tells Brenda she's the best mother Mildred knows. When Brenda, relieved, says she'll come up with plan to get back on her feet "somehow," Mildred responds: "It ain't somehow. It's the Lord. You just keep prayin'. Don't you ever get tired of doing the right thing."
The "right thing" arrives in the form of a letter informing Brenda of the passing of her father, whom she barely knew. She accepts the invitation to travel from her home in Chicago to Georgia for his funeral. It's there that she meets the Browns. First up is the outrageously attired Leroy (David Mann, who steals the movie), who has a penchant for bowing his head in prayer and closing his eyes while driving, ("Lord, take the wheel," he prays, as the car careens into the oncoming lane).
As others try to make Brenda feel at home, Vera (Jenifer Lewis) poisons the proceedings with her suspicions about Brenda and the motives of Harry (Rick Fox), a former basketball star who wants to take Michael under his wing. His intentions toward Brenda are clearly romantic, but his past gambling addiction gives Brenda pause, and Vera fuels Brenda's misgivings by suggesting that Harry only wants a piece of Michael's future salary.
Perry, who has made a name with a series of plays and movies touting Christian values and family bonds among African Americans, makes few missteps in directing Meet the Browns. The shift toward seriousness in the film's final third slows down the cavalcade of jokes and sucks the air out of the boisterous earlier portion of the film, while thrusting its central characters through too many life changes too quickly. But the seriousness is also a reminder of the struggles presented early in the film, and a way of showing the fulfillment of one character's promise to Brenda. "God will make a way," Brenda is told, and she replies, "I sure want to believe that."
Have something to say about this article? Leave your comment via Facebook below!
advertise with us
Example: "Gen 1:1" "John 3" "Moses" "trust"
Advanced Search
Listen to Your Favorite Pastors