There's No Safe Haven from Poor Reviews
Christian Hamaker, Crosswalk.com Contributing Writer
Thursday, February 14, 2013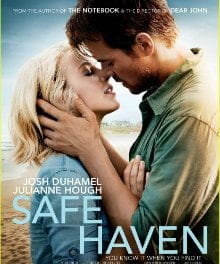 DVD Release Date: May 7, 2013
Theatrical Release Date: February 14, 2013
Rating: PG-13 for thematic material involving threatening behavior, and for violence and sexuality
Genre: Romantic Thriller
Run Time: 115 min.
Director: Lasse Hallstrom
Cast: Julianne Hough, Josh Duhamel, David Lyons, Noah Lomax, Mimi Kirkland, Cobie Smulders
If you're watching a movie based on a Nicholas Sparks novel, you're bracing for an on-screen death.
The running joke about movies based on Sparks' works is that one of the main characters is going to die, or has recently died. Think of The Last Song, where the Greg Kinnear character loses his battle with cancer. Or the elderly couple in the film adaptation of Sparks's The Notebook.
In Safe Haven, the central death has already occurred (like in Message in a Bottle). The wife of Alex (Josh Duhamel, Ramona and Beezus) has died of cancer, and according to one of the women in Alex's rural North Carolina town of Southport, the wife's death "nearly broke him in half." He's healing slowly, but could use a little help.
Enter Katie (Julianne Hough, Footloose), a newcomer to town who's looking to put her own troubled past behind her. Her troubles are more recent than Alex's. Through flashbacks, we learn that Katie has stabbed someone back in Boston, dyed her hair blonde and taken a bus to Southport. She's looking to make a new start, because after all, as Katie's new friend Jo (Cobie Smulders) explains to her, "Life is full of second chances."
But Katie is being pursued by a police officer (David Lyons) determined to find her and bring her to justice for her crime. He watches video at the bus depot where Katie left town, repeatedly questions a woman he suspects abetted Katie in running off, and relentlessly tracks her to Southport.
The characters converge during the July 4 celebration in Southport, adding their own interpersonal fireworks to the town's festivities.
Safe Haven, like most Sparks films, is thoroughly predictable and offers few surprises. With adaptations of his novels, we've come to expect the expected from the plot, and to find little distinction in visual style. But Safe Haven also contains some painfully on-the-nose filmmaking that makes you wonder what the creative team thought of its audience's intelligence. As two women walk through Southport, one says she loves "the way the light comes through the trees." Cut to a skyward shot of sunlight coming through the treetops. Everything is underlined. Twice.
Nearly every plot point is likewise telegraphed, with the exception of one misguided twist that fails to fix any of Safe Haven's problems. Those include a bland leading actress in Hough and the sorely underdeveloped Jo character, who shows up for two or three scenes without advancing the story in any significant way.
Most puzzling of all is that the film is by European director Lasse Hallstrom, who made a splash on these shores in 1985 with My Life as a Dog before carving out a Hollywood career working on literary adaptations (The Cider House Rules) and other films (What's Eating Gilbert Grape?, Chocolat) that earned multiple Oscar nominations. Why he is now spending his creative energies on Sparks—Hallstrom also directed the film version of Sparks' Dear John—is hard to explain. Safe Haven doesn't seem to have benefited from Hallstrom's directorial touch. If anything, it's tarnished his reputation.
Have something to say about this article? Leave your comment via Facebook below!
advertise with us
Example: "Gen 1:1" "John 3" "Moses" "trust"
Advanced Search
Listen to Your Favorite Pastors