Semi-Pro Only Semi-Funny
Stephen McGarvey, Crosswalk.com Executive Editor
Friday, February 29, 2008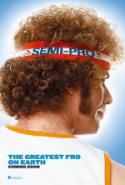 DVD Release Date: June 3, 2008
Theatrical Release Date: February 29, 2008
Rating: R (for language and some sexual content)
Genre: Comedy
Run Time: 85 minutes
Director: Kent Alterman
Actors: Will Ferrell, Woody Harrelson, Andre Benjamin, Maura Tierney, Andrew Daly, Will Arnett, Andy Richter, David Koechner, Rob Corddry, Matt Walsh, Jackie Earle Haley
You may have heard the old adage, "If you've seen one Will Ferrell movie, you've seen them all." Well maybe you've never heard anyone say that yet, but you probably will. Especially if Ferrell continues to make these vapid, vulgar comedies that are hardly even amusing. Although Semi-Pro is a tad more entertaining than last year's figure skating send up Blades of Glory, it is a far cry from his hilarious, earlier films.
So now after mocking, skating, local newscasts, and NASCAR, Ferrell's same clueless, yet incredibly earnest, man/boy character can be seen making a mockery of basketball. Set in 1976, Ferrell is Jackie Moon, the owner/manager/player of the flamboyant American Basketball Association's (ABA) Flint, Michigan Tropics. Yet he knows nothing about basketball, having bought the team with the money he made from his hit single record, "Love Me Sexy." When the ABA decides to merge with the more respectable National Basketball Association (NBA), the terms of deal are worked out for the NBA to take the four teams with the season's best win/loss record, and highest fan attendance. The rest of the league's teams will be dissolved.
Of course, Jackie wants the Tropics to be one of those four teams so his guys can play in the NBA. Unfortunately his crew of lovable idiots are in last place. So Jackie brings in volatile veteran player Monix (Woody Harrelson) to help them win some games and get the team ready for the big time. Hijinks ensue, mostly centered around Jackie's attempts to fill the empty seats in the Tropics' arena.
To be sure, there are certainly funny moments scattered throughout the film. Jackie's idea is to give out corn dogs to all the fans, if the Tropics win by a certain amount, when they have no money for such an expense. So he goes out on the court and starts playing against his own team. Later he tells a live TV audience, with the false machismo that only Will Ferrell can muster, that "I, Jackie Moon, will wrestle a bear after the game." Although the results are completely predictable, Ferrell's over the top personality carries this scene and many similar ones.
Unfortunately the film lacks any originality and whenever crazy Jackie Moon is not on screen it grinds to a screeching halt. Harrelson's talent is completely wasted as Monix, a casualty to bad casting and bad direction. A ridiculous subplot about Monix being in Flint to try and get back together with his ex-wife is supposed to make us feel some sort of sympathy for the character. Yet it's so tonally out of place, it make us long for more Jackie Moon antics, which we've actually seen done better in other films.
There is nothing even remotely redeeming about the film's message. Aside from some vague platitudes about friendship and loyalty and working hard to achieve your goals, Semi-Pro is mostly Ferrell's silly vignettes and vulgar jokes about sex, lying to get ahead and bodily parts and functions. While the film can be commended for not taking the "how disgusting can we get" approach to comedy like last year's Superbad or The Heartbreak Kid, it certainly earns its "R" rating.
Have something to say about this article? Leave your comment via Facebook below!
advertise with us
Example: "Gen 1:1" "John 3" "Moses" "trust"
Advanced Search
Listen to Your Favorite Pastors