A Severe Mercy
David Jenison, CCM Magazine
Monday, May 24, 2004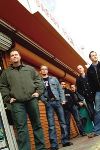 Millard struggles to maintain his composure. He tells about the eight people he's lost in the last few months and admits to the difficulty in accepting how yet another loved one could be taken. Having played such a major role in Millard's childhood, the death of his uncle feels overwhelmingly raw. With his confession, the crowd waits for a spiritual spin; but Millard gives none. Instead, he says all he feels is "bitterness."
Earlier, during the interview, the singer spoke openly about all the tragedies and tried to put them in a spiritual context. In this painfully personal moment onstage, however, not even his own music – which has helped millions cope with their own losses – could help comfort the singer's sorrow. When the show ends, Millard quickly departs the venue. Four days later, he would help bury his mother's brother, who died suddenly from a brain aneurysm.
In a brief follow-up phone interview days later, Millard reflects on the show in West Virginia, "Whether you are the most godly person or not, after a while you feel you deserve a break. I'm not saying that's the right way to feel, but it's the human side. That's what hit me when I first heard the news. I felt like Job in the Old Testament saying, 'Enough is enough.' All these emotions went through my head – anger, grief and especially bitterness. 'This can't be happening after everything we've gone through.' I kept thinking, 'Why is it that all the good people are going through this?' I'm talking about those who lost their lives and not just that they died but how they died. Even with all the right Sunday school answers, sometimes the best thing you can do is be brutally honest and say, 'This hurts a whole lot and really ticks me off.' God is big enough to handle it." Millard also says that being home with his family has helped dramatically. He adds, "The best thing for me was to go home and be a nephew who lost his uncle, to hold my wife and son and cry for them and not worry about the next city on a tour. I'm still dealing with it. I'm dealing with a lot."
Earlier in the day before the Charleston show, Millard referred to MercyMe as "the funeral band," a reference to the number of people who have played "Imagine" at memorial services. Survivors find comfort in the song's emotional theme, but the group's sensitivity to such losses, sadly, comes from personal experience. When the singer mentions how Bryson lost both of his parents (His father, Dan, died Dec. 10 from congestive heart failure; his mother, Elizabeth, two years earlier), the keyboardist's eyes dart downward as if he hopes he's not asked to comment. Of course, "Imagine," itself, arose out of the 1991 death of Millard's father.
"My father's death shaped everything I do in this band and not just because our 'career song' was written out of that experience," says Millard. "It's the way I relate to people, the way I do things, the way I approach things. At that age, watching my dad wither away made me grow up really, really fast. It's probably the pinnacle of my life."
The Texas-raised singer was just a high-school freshman when his father was diagnosed with pancreatic cancer, a disease with one of the lowest survival rates. Millard was 3 when his parents divorced and when his mother remarried and relocated to San Antonio, he and his older brother stayed with their father. During these years, the youngest describes his father as having "a really bad temper and being a really abusive guy. There was no 'time out' when I was growing up."
During his own youth, Millard's father became a huge football star in high school and college and thought he would be drafted into the pros. Instead, he found himself raising two boys and making around $26,000 a year building bridges for the highway department. "There was so much in my dad's life that didn't happen," recalls Millard. "He had the whole 'what if' game the rest of his life."
Have something to say about this article? Leave your comment via Facebook below!
advertise with us
Example: "Gen 1:1" "John 3" "Moses" "trust"
Advanced Search
Listen to Your Favorite Pastors