A Severe Mercy
David Jenison, CCM Magazine
Monday, May 24, 2004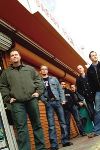 "The five of us have done this for so long," says Bryson, "that with a new member, it's suddenly like starting over. Barry is a breath of fresh air. Plus, he's older than me; so I'm no longer the oldest guy in the band." Cochran jokingly adds, "It's great because Barry allows us to park closer at grocery stores, gets us the senior discount at Denny's and buys us movie tickets at a cheaper rate!"
With "Undone," the MercyMe guys also took the time to define who they really are and what they do. Is MercyMe a rock band, a worship band, a crossover act, a church act, and how should all this affect where it goes from here? "We always say we are a rock band, but 'Imagine' is the poster child of adult contemporary music," laughs Millard. "We are worship leaders first and foremost, but part of our calling is to broaden the definition of worship. We are trying to show worship as a lifestyle and as relevant on mainstream radio."
Looking at the big picture, "Imagine" is the first contemporary worship song to crack Top 40 radio since Sister Janet Mead's double-platinum selling version of "The Lord's Prayer" in 1974. MercyMe's success provides fresh inspiration for other worship groups; but, for some, witnessing this success can muddy one's priorities. "There is nothing worse than an unsettled worship leader!" says Bryson, inciting the entire band to laugh. "It's true, man. We get it all the time. 'What I'm doing now is just a stepping stone to something bigger.' Well, if you don't think the 10 people you play for are just as important as the five thousand we play for, you aren't going to get any bigger."
Shaffer adds, "People will say, 'I just want to be doing what you're doing.' They don't get it. They are doing what we're doing. We are all leading worship. They think there's something bigger for them, and there may be; but the chances are it won't come across their path before they are content with where God has them at that time."
When MercyMe speaks of making the most of each level, it comes from not taking the express elevator to the top. In fact, the guys jokingly call themselves "the longest overnight success ever," a comment reinforced by the fact that "Undone" is actually their ninth album. In its decade together, MercyMe tackled every opportunity, tried every angle and slowly grew into a group prepared for a larger stage. Millard, who started the band with Bryson and Scheuchzer, remarks, "Our goal was just to be a worship band, but we didn't really understand why. Back in 1994, there was no label putting out worship records unless you were a worship leader. We thought maybe we could make a decent living doing church camps; but bottom line, we just loved what we were doing."
The band recorded its first independent, "Pleased to Meet You," the year they started; but MercyMe soon chased the myth that a band must move to Nashville to land that ever-elusive recording contract. "We moved to a place called Inglewood; and, if you lived there, you'd understand why we called it 'Inglehood,'" says Bryson, who's ironically sporting a Nashville t-shirt. "There were gunshots, police helicopters and liquor stores as far as the eye can see." Regretfully, the time spent in Music City yielded no fruit. Cochran notes, "When you move to Nashville looking for a deal, you basically come across as desperate." MercyMe eventually headed back to Dallas to join a ministry there. Mark Matlock, who took over a ministry Dawson McAllister started, recruited the band to travel with him to student conferences, youth conventions and other events.
During this time, MercyMe gained huge coast-to-coast exposure while continuing to self-release albums like "Traces of Rain Volumes 1 & 2," "The Need" and "The Worship Project." The band was just finishing up its sixth independent album, "Look," when the record labels first heard "I Can Only Imagine." The band was signed soon after.
Have something to say about this article? Leave your comment via Facebook below!
advertise with us
Example: "Gen 1:1" "John 3" "Moses" "trust"
Advanced Search
Listen to Your Favorite Pastors