A Severe Mercy
David Jenison, CCM Magazine
Monday, May 24, 2004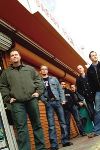 After years of diligent effort, MercyMe can say the roads-less-traveled took the band to a plateau it never imagined. Only when the guys gave up on Nashville did the band land a record deal. Only by focusing on the Christian market did they land one of the biggest crossover hits in Christian music history. More than anything, MercyMe's journey inspires faith and hope, two virtues Millard surely needs in his days of mourning.
In the end, it was the unexpected twists and turns of the band's journey that inspired the new album title, "Undone." Millard concludes, "We had our plans for what we were going to do; but when the bigger picture happened, all of our plans came unraveled. We don't know what tomorrow will hold. When you make your own plans, you suddenly find yourself undone; and that's exactly where God wants us in the first place."

Meet the Band
James Philip Bryson
Instrument: Keyboards
DOB: Jan. 11
Favorite Food: Leo's BBQ
Born/Raised: Born Joplin, Mo.; reared in Clinton, Mo.
Football Fave: Kansas City Chiefs
Worst show: "I was falling off the back of the stage at least two or three times with my accordion. We used to play really small stages, and I got wedged in between the stage and the wall and couldn't get out."
Bart Millard
Instrument: Vocals
DOB: Dec. 1
Favorite Food: Tex-Mex
Born/Raised: Greenville, Texas
Football Fave: Dallas Cowboys
Worst show: "I had ear monitors on, and something wigged out on the microphone. It was the loudest thing I'd ever heard in my ears. It shocked me, and I couldn't get my 'ears' out fast enough. You know when the grenade goes off in 'Saving Private Ryan,' and he goes deaf for a couple seconds? No lie, I went completely blank. We watched the video later, and you can see me turn pale white. When my hearing finally came back, I was singing in a completely different key. In fact, I couldn't have been singing any more off-key than I was."
Robin (Robby) Troy Shaffer
Instrument:  Drums
DOB: Nov. 14
Favorite Food:  Mexican
Born/Raised:  Born Tifton, Ga.; reared in Columbia, Mo.
Football Fave: Kansas City Chiefs
Worst show: "I started a key in the wrong time signature. The song was in 4/4, and I started in 6/8. It's hard to recover in the intro of a song when you are in the wrong time."
Michael (Mike) John Scheuchzer
Instrument: Guitar
DOB: June 8
Favorite Food: His wife's chicken rolls
Born/Raised:  Born Portland, Maine.; reared in Bartow, Fla.
Football Fave: Tampa Bay Buccaneers
Worst show: "It was the night I forgot to retune my guitar and thought it was broken. We were doing spontaneous worship, and we went from one song to another. I switched from acoustic to electric between songs, and I forgot to put my capo back on. I was retuning, stepping on the pedals, and then I finally grabbed another guitar thinking the first one was broken."
Barry Graul
Instrument: Guitar
DOB: May 18
Favorite Food: Sushi
Born/Raised: Baltimore, Md.
Football Fave: Buffalo Bills
Worst show: "We were filming a DVD, and my strings didn't feel right. Is this the right gauge strings? My tech polished my guitar that day when he changed the strings, and he'd somehow cranked the bridge all the way down against the body of the machine, so the strings were hitting against the pickup. It was unplayable. I had to pick up a different guitar, and it threw me off the whole night."
Nathan Cochran
Instrument: Bass
DOB: May 26
Favorite Food: Sandwiches
Born/Raised: Columbia, Mo.
Football Fave: Kansas City Chiefs
Worst show: "Mine was last night. I never before had a crowd so 'mess with my head' that it messed up my playing. When we started, it was like we scared them. They looked at us like there was something wrong. I'm like, 'Is the sound system on?' People were rubbing their faces. I have no idea what happened."

Photo by David Edmonson
© 2004 CCM Magazine.  All rights reserved.  Used with permission.  Click here to subscribe.
Have something to say about this article? Leave your comment via Facebook below!
advertise with us
Example: "Gen 1:1" "John 3" "Moses" "trust"
Advanced Search
Listen to Your Favorite Pastors