And Ten Years Later, CeCe Winans Gets Personal
Jay Swartzendruber, CCM Magazine
Wednesday, November 16, 2005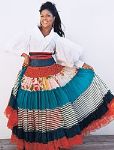 From the start of an astonishing career with her brother BeBe to her 10 years as a beloved solo artist, CeCe Winans is a legend – at least in the minds of many of her peers. In her own mind she's something else altogether. And in truth? She's something – someone – far more personal than a legend.
If you were CeCe Winans and you had spent the past decade establishing one of the most prolific and respected careers in all of modern music, what would you do to mark your 10th anniversary as a solo artist? Release a special edition "Best Of" album? Embark on a commemorative tour and follow it with an accompanying live DVD and CD? If, like CeCe, you had spent eight years prior to going solo recording as part of a platinum-selling duo (BeBe and CeCe Winans), you'd have 18 years of stardom under your belt. You might anticipate a tribute album – even encourage it through unofficial channels.
But not CeCe. None of that is her style. For her 10th anniversary as a solo artist, she just went out and recorded her most personal album yet. Should we have expected anything less?
The lyrical themes on the new disc are not only personal, they're extremely broad. Whether she's talking about sibling relationships, racial diversity, reliance on God in the midst of hardship, troubled marriages, the hope of heaven, romance, praise and worship or prayer, it's open season on pretty much anything and everything.
The Mystery of Marriage
Consider the song "Just Like That" from "Purified" (Wellspring/INO), which released in mid-September. CeCe layers the track's slow groove with words of profound encouragement, counseling those listeners whose marriages are plagued by passivity, shame, fear and mistrust. In one particular, cut-to-the-chase moment, she sings on God's behalf, "I can change your husband's heart and make his love for you come back."
She makes you believe it.
"I've lived long enough to know – and surely you don't have to be 40 or over to know this – but God's right all the time …" says CeCe, making eye contact with thoughtful ease. "I've been married 21 years. I didn't get nervous about being married until probably 10 years into my marriage. I went to a marriage conference our church had. I was like, 'We don't need anything, but I'll go.' That's where I really found out what marriage meant, and I got nervous. I was like, 'Aah, I agreed to do what?'
"I always had the thought, 'As long as you love me, I'll love you. As long as you treat me right, I'll treat you right. The minute you don't, I'm out of here.' Even though we were happy, that was always in the back of my mind. It was like, 'God hates divorce, so if I get divorced, I just won't ever get married again.'"
As is often the case with epiphanies, CeCe's was triggered by a verbal illustration. Her pastor said something that changed her life. Speaking of his wife, he said, "If she decided to leave me today and decided to be a prostitute, I would buy up all her time because her soul is more important than my pride."
Says CeCe, "I was like, 'Are you serious?' I'm in the wrong place! [Laughs] I gotta get out of here! I gotta go!'
I had to be humble and realize what marriage meant and what it was supposed to mean to the world. … There've been times when I've wanted to leave, you know, but it's like, I can't go anywhere. The Holy Spirit would say, 'No, you're not going anywhere. So what if this happened, and that happened. So what?'
Have something to say about this article? Leave your comment via Facebook below!
advertise with us
Example: "Gen 1:1" "John 3" "Moses" "trust"
Advanced Search
Listen to Your Favorite Pastors