Brave Heart
Jay Swartzendruber, CCM Magazine
Tuesday, May 31, 2005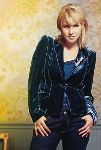 How Long to Sing This Song?
As Nichole talks about other themes prevalent on "Brave," which released May 24, it starts to become clear that her sabbatical was a God-send in more ways than one. The album's fourth track, "Real to Me," may boast an addictive hook of a chorus, but it's the song's striking lyrics that linger, revealing insight into the period before Nichole's sabbatical. She calls the song "a desperate prayer" asking God to "just be real" in a profound and immediate way.
Elaborating, Nichole says, "You know, sometimes I walk off the stage after a performance and am like, 'What was that really? Was that really me?' I can tell you that I felt that a lot more shortly before my sabbatical. I was just totally burned out on performing and singing, and I don't know anyone who hasn't experienced this in our industry — the just totally mailing it in.
"It's different if it's every once in awhile," she continues candidly, "but for me it became so regular, like 'I know what I need to sing, I know what I need to say.' Anyone who has been doing this for any length of time figures out exactly how to manipulate your audience. Especially in a church setting — it's just unbelievably easy to go, 'This will get a laugh, this will get a cry, this will get an "Amen," I'll sell some CDs and be done with it.' What a devastating place to be as someone who loves to create and loves to hopefully speak truth and life and life-giving words and life-affirming things."
Even during interviews, Nichole often found herself "totally on auto-pilot. The other person, or my audience, had no idea, and that's just a gross feeling," she says. "It's hard to look in the mirror after those days, getting on the bus and going, 'That was nice, but I sure hope God showed up because I know I didn't.'
"'Real to Me' does talk about a lot of that — just 'God, where are You really? Where are you in the middle of that because I can't read any more books, and I can't have this conversation with one more person, and can You just please, for five seconds, pull back the curtain and let me see something?' And then go, 'I know this is all for something really real.'
"I'm just beginning to feel the pangs as I [return to the music scene], just the temptations to not be honest again, the temptations to say what is expected of me and to write what is expected of me, and knowing I'm fully capable of just going through the motions and doing a darn good job of it, but praying to God that I won't lose that connection with people and the heart of Christ."
Nichole's eye contact, personal and consistent throughout the conversation, anchors these thought-provoking words — words that invite a moment, a pause, for reflection. 
"The years of consecutive tours and the general 'grind' that a new artist — especially one who is already prone to workaholism — commits to, left me standing on a self-made island," she explains. "I had completely lost touch with my need for people and friends. Having Charlie, and being a stay-at-home mom, really gave me a chance to tap into some relationships with several girls who are also new moms. This would have been interaction that I would have avoided in the past, as it requires vulnerability and the need to 'need' people. But these women — my friends — have taught me a lot this past year about leaning on the people that God gives you. This was a big part of my getting in touch with dependency on Jesus and the people He brings by for coffee."
This Is the Way Love Is
Have something to say about this article? Leave your comment via Facebook below!
advertise with us
Example: "Gen 1:1" "John 3" "Moses" "trust"
Advanced Search
Listen to Your Favorite Pastors