Brave Heart
Jay Swartzendruber, CCM Magazine
Tuesday, May 31, 2005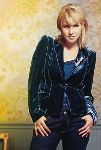 The Big Picture
Based on Nichole's comments concerning the songs "Brave," "Real to Me" and now "We Build," one might too quickly assume the new album is generally introspective in nature. If so, one should think again.
"I believe the best way to describe the record as a whole — and I didn't write it with any kind of agenda — would be to say that it's probably not a lot about me. Every single thing I had written prior had been about my struggle, my journey, just this pretty introspective view, "Woven and Spun" a little less so, maybe. But I think one of the gifts that this time off afforded me was to get out of myself a little bit — to be home enough to watch the world happening around me and walk through some dark places with some friends and pay more attention to relationships that I had let suffer and really jump into people's joy and their pain and tell stories about that. And I'm woven in there a lot, but I'm not the starring attraction.
"It feels so great to be talking about those songs live already and getting to tell stories about the evidence of God's mercy and love in people's lives, including my own …, but this record feels so liberating to me because it's just not all about me."
Thematically, "Brave" is indeed diverse — diverse, but no less potent when it comes to substance. And whether Nichole's offering probing questions of faith to listeners who don't believe ("What If"), connecting with those in the deepest throes of despair as she sings, "Between two thieves in the darkness, love must believe you are worth it" ("Hold On"), or composing a song inspired by Donald Miller's "Searching for God Knows What" ("Crimson"), this self-described introvert is taking the relational approach.
"I hope 'Brave' has an honest depth, but that people who hear these songs don't have to work quite as hard to dig around for the hidden meanings," says Nichole. "I look back at 'This Mystery,' for instance, which is some of my favorite writing personally, and it's a hard record to listen to. It requires work. I think that if that record was a textbook, maybe this record is a journal."
More Than Fine
Musically "Brave" certainly lends itself to such lyrical intentions. Following the lead of Brad O'Donnell, EMI CMG Label Group's Vice President of A&R, Nichole partnered with producer Jay Joyce (Patty Griffin, Abra Moore), and together the pair created her most adventurous, sonically-inviting album to date.
"The cool thing about making this record was that we didn't have a real clear idea what it was going to be," recalls Joyce. "We just started experimenting, and Nichole was fearless every step of the way, open-minded and giving anything a try, just to see what might stick. If a song needed another verse, she would go into the other room and come back with something brilliant. She's the real deal — a true artist."
Explains Nichole, "I probably wrote seven more songs than we needed, which I have never done in my life, because there was so much to say about where I was. Everything felt risky — every part of this. And one thing I had never experienced was the evolution of the songs. I begged Jay for that in the beginning. I said, 'You have to be hard on these songs because I cannot stomach a record that is just good enough — like, "Yeah, that'll work." And he was. A couple songs we butted heads on because I was pretty sure they were keepers, and in the end, it was so right to just go, 'Let's keep trying a different angle.'"
Risky situations. Moving ahead. Trying new angles. There's that word again — brave. But what does it mean? And does meeting Nichole in this chapter of her life give it an even deeper meaning? If so, we shouldn't be surprised. After all, there's nothing like seeing a working model in action.

© 2005 CCM Magazine.  All rights reserved.  Used with permission.  Click here to subscribe.
Have something to say about this article? Leave your comment via Facebook below!
advertise with us
Example: "Gen 1:1" "John 3" "Moses" "trust"
Advanced Search
Listen to Your Favorite Pastors