Child of the Promise Tour
Cheryl Johnston, Crosswalk.com Spiritual Life Editor
Thursday, December 14, 2000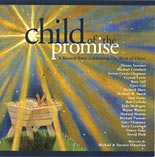 By Cheryl Johnston
The
Child of the Promise
was advertised as a Christian musical "in the spirit and drama of
Les Miserables
or
Phantom of the Opera
." Had it been billed as a concert, I would not have been so disappointed in the performance.
Saturday night, I silently thanked God that I had not brought non-Christian friends to see the
Child of the Promise.
We Christians are accustomed to applauding poor performances delivered in the name of God. I dont understand why, but I dont want to explain this paradox to non-Christians.
The
Child of the Promise
Tour started with an hour of caroling and ended with a new musical produced by Norman Miller. During the caroling, Russ Lee, Aaron Benward and Clay Crosse sang
O Holy Night
with intensity and near-perfect harmony.
Jumpstart, five teens from Nashville (two boys and three girls), stole the show. They sang
Santa Claus Is Coming to Town
, energizing the huge audience as they performed a high-impact dance routine, complete with back-flips and the latest pop dance moves.
The musical, with elaborate costumes and pricey tickets, was advertised as a Broadway-style performance. It turned out to be neither a Broadway-style nor a Broadway-quality musical. The long songs lacked catchy tunes and choreography. Each actor entered the stage in character and sang into his or her headset. The musical held true to the biblical story of Christmas, but painfully so. Nearly all of us were ready for the musical to be over within an hour, yet it started with Elizabeths pregnancy and went through Mary and Joseph fleeing from Herod.
The one song that could be compared with a Broadway number was the shepherds song,
Nothing Ever Happens to a Shepherd,
sung by 4HIM (Mark Harris, Marty Magehee, Andy Chrisman, Kirk Sullivan). These four guys performed a cane-and-hat (hood-and-staff) routine as they sang funny lyrics about the dull, insignificant life of a shepherd. This song was so different from the rest of the musical that I wonder if 4HIM made their own improvements. I wish the other songs could have been brought to this level of entertainment.
Even the youngest angel in a church Christmas pageant knows that you want to help the audience to believe that the baby doll in Marys arms is Baby Jesus. In the
Child of the Promise
, the camera zoomed in on the dolls face for us all to see on our giant screen TVs, both when Zacharias was holding newborn John the Baptist and when Mary held the newborn Savior. We could see that the same doll was used for Baby John the Baptist and Baby Jesus. After the close shot, it seemed ridiculous for Joseph and Mary to fuss with the babe.
Twila Paris, pregnant and already showing, was a lovely Elizabeth. She sang with sincerity and moved me to worship our Father for the awesome ways in which He works in ordinary people.
I know the fans of Crystal Lewis loved her having the big part of Mary. She is extremely talented; however, her nightclub style just didnt seem to reflect the innocent teenager Scripture says Mary was. Her sexy sound, brown wig and toothy smile brought to mind old Madonna videos. Rachel Lampa, who was poorly cast as Anna (the old woman at the temple), would have been a sweeter, more realistic Mary.
With his boyish charm, Steven Curtis Chapman looked like he was enjoying being Joseph. At the end of the evening, he excused the nights performance with the disclaimer that he and his fellow cast members are not actors and actresses.
I never thought I would come across a musical that I didnt like, and now I have. I understand that big names draw a bigger crowd, but I think the Christian leadership of this endeavor should have sought out those people gifted by God in writing and performing musical drama.
Have seen the
Child of the Promise
or heard the CD? Let us know what you think.

Find out more about the album based on
Child of the Promise
here.
Have something to say about this article? Leave your comment via Facebook below!
advertise with us
Example: "Gen 1:1" "John 3" "Moses" "trust"
Advanced Search
Listen to Your Favorite Pastors