City on a Hill: A Farewell Gathering
Thom Granger, CCM Magazine
Friday, January 23, 2004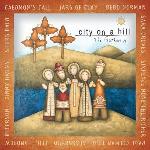 Consequently, Hindalong and Byrd were asked for more of the same, not only as producers but (ironically) as songwriters for other artists throughout the industry. As Steve sees it, "The gatekeepers of the worship genre feel the market is very discriminating when it comes to the lyrical content of the songs. I don't think it is; I think they underestimate their audience."
But before bidding adieu to this beautiful "City," we asked Steve and Marc to give us some reflections on working with many of the artists involved in these projects. Both were quick to make the general comment that, according to Steve, "Most of these artists are really good people, humble people who would sing on anything we asked them to sing on. Most of the challenges in getting these things done weren't from the artists but from their managers!"
FFH

Steve:  Jeromy [Deibler] from FFH was the first artist we met with to present songs. We felt strongly that they would do a great job on "God of Wonders." Unfortunately, he didn't like it or any of the songs we played and sort of balked at the whole concept; but he was persuaded by Essential to be part of it. Now he jokes about it, saying, "I'm the guy who turned down 'God of Wonders'! When he came in for the second project, though, he was totally positive; and we had a great time during the making of "The Gathering." That's the thing about the community aspect of this project: You develop relationships, and I grew to really like these people.
Marc:  You know, when you're heavily involved with alternative rock, you can become a musical snob — an elitist who looks down on everybody not involved with that community. I had preconceived ideas about who some of these artists were, but you come to realize that real community is not a group of people who like the same things. Rather, it's getting to know people on a deeper level beyond the differences in personality. It's like C.S. Lewis said when he was a new Christian: He didn't want to go to church because the music stunk, the ladies around him always sang out of tune, and he was smarter than the guy who was preaching. It finally dawned on him that the reason you go to church is because the music stinks, the lady is singing out of tune, and he thought he was smarter than the preacher. That's community.
Third Day/Mac Powell
Steve:  I've never been a fan of southern rock and was apprehensive about working with this band. We cut a song of theirs ["City on a Hill"], and then I asked Mac if he was willing to sing "God of Wonders." I told him that the Caedmon's Call folks had cut vocals for it already, and I was going to use different people for different lines of the song. He agreed to do it, and I don't think either of us understood the impact that song or his performance of it would have. Most surprisingly, he asked me if he could sing "I Remember You," which [the late] Gene Eugene had written for his band Adam Again. I was blown away by his suggestion, and we flew Gene out to play piano on the track. Mac did a great job on that one; and Gene loved it, too.
Gene Eugene
Steve:  In addition to playing on "I Remember You," I had this song "Marvelous Light" that I thought was pivotal to the concept of the whole album; but no artist we had played it for was interested in recording it. Gene sat at the Wurlitzer [electric piano] and took it really slow, and it sounded so cool. We had everybody cut a vocal of this chorus so we could create a virtual "choir" in the studio at mixdown; but when Gene died two weeks afterward, we decided to make his performance of it the lead vocal. It became a nice tribute to a brilliant artist and friend.
Have something to say about this article? Leave your comment via Facebook below!
advertise with us
Example: "Gen 1:1" "John 3" "Moses" "trust"
Advanced Search
Listen to Your Favorite Pastors