City on a Hill: A Farewell Gathering
Thom Granger, CCM Magazine
Friday, January 23, 2004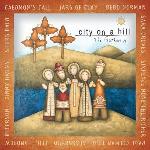 Phil Keaggy
Marc:  As a guitar player, I've been a fan of Keaggy forever; and when he came in to play, I was just in awe. He would change tunings throughout the track and did it so smoothly, it completely blew my mind. He was sweet and humble and generous, as always.
Sara Groves
Steve:  What an amazing voice and what a down-to-earth person. She's got as good a voice as you'll ever hear. She came in on the Christmas album and did the track while she was in town for Gospel Music Week. She knocked that thing ["Child of Love"] out of the park and then came back around and did one of her own songs on "The Gathering" ["Come Be Who You Are"], which was great.
Bebo Norman
Steve:  Bebo came to our attention through Cliff Young. I first met him at a Christmas party, and he told me that he loved this song "Beautiful Scandalous Night" from "At the Foot of the Cross." So we asked him if he would like to sing the remake of it with Leigh [Nash]; and he was kind enough to do so.
The Choir
Steve:  I didn't originally think Derri and I should be on there. I wrote "Precious Jesus" originally for Third Day, and Derri did the guide vocal on the demo. Robert [Beeson] heard it and encouraged us to go ahead with it as The Choir, with Leigh [Nash] singing along. I love it.
Out of Eden
Steve:  I've always been a fan of theirs. I love hip-hop. I listen to it in my car but have never produced anything in that genre. Lisa [Kimmey] is a great talent and a natural leader musically. I'm very proud of that track ["Do You Hear What I Hear"], and I think we succeeded; but really it's Lisa vocally doing her thing that makes it work.
Terry Scott Taylor
Steve:  Terry (of Daniel Amos) is the patriarch of modern Christian rock, and we wanted to pay homage to him in the way we did with Gene [Eugene] on the first project. Terry was in town with Lost Dogs, and we wrote the central song for the album that night ["It's Christmas Time"]. He wrote and sang another one for the album as well ["Holy Emmanuel"], and I'm so pleased he was able to be a part of this.
Julie Miller
Steve:  Like he had done with Gene's song, Mac [Powell] really wanted to do Julie's song ["Manger Throne"] on the Christmas record. It's from one of her earliest albums, and it's a beautiful song. She was kind enough to sing harmonies on it as well as sing with Derri on "Away in a Manger," which she and her husband, Buddy, had done on our early indie Christmas album, "Noel" [Via, 1995, out of print].
Paul Colman Trio
Marc:  Paul is hilarious and intense, with a great voice. And he's not afraid to take risks in the studio.
Steve:  We were together one night socially, and he started speaking so passionately about the subject of reconciliation in our personal relationships. I said to him, "That's the song I need for 'The Gathering,'" and he and Phil Madeira wrote "Instrument of Peace" for us.
Andrew Peterson
Marc: His song ["Holy Is the Lord"] is getting a lot of comments from people already, especially people with children, who are very moved by it. He's a very gifted artist who loves to tell stories, especially from the Old Testament.
Ginny Owens
Steve:  We had wanted Ginny to be involved with the "City" projects long before she was able to do so. She was the last artist to be involved with the last album. We wrote the song "Open Our Eyes Dear Savior" with Jimmy Abegg; and, contrary to what you might think, we had Michael W. Smith in mind originally. But Jimmy helped to bring it to Ginny's attention, and she sang it real sweetly. She made it her own, changing the chords and melody; and the vulnerability of her performance really made it incredibly intimate.
GlassByrd
Steve:  GlassByrd is Marc and his wife, Christine; and they were behind the scenes for this entire project. So many of the guide vocals on the tracks were Marc's and Christy's, which were erased to make room for whoever ended up on the album. In light of that, I'm really glad that people get to hear their voices on "The Gathering."

© 2004 CCM Magazine.  All rights reserved.  Used with permission.  Click here to subscribe.
Have something to say about this article? Leave your comment via Facebook below!
advertise with us
Example: "Gen 1:1" "John 3" "Moses" "trust"
Advanced Search
Listen to Your Favorite Pastors