Hip-Pop
Debra Akins, CCM Magazine
Friday, February 27, 2004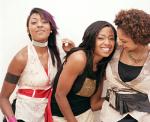 "I chose to never look at their previous nine years in the context of what they didn't receive as far as accolades," explains Gotee's Elwood. "I really tried to focus on what it is they achieved, in spite of a system that was not setup to readily accept what they do musically. They sold over a million records. In '94 no one would have believed that was possible. For 10 years we, as an industry, have gotten to enjoy the music they've created – a lot of which I know will stand the test of time. We have people working in our office today because of the effect "Lovin' the Day" had on them. Pro athletes, politicians, actors and actresses and pastors all call our office asking for boxes of their music. Working with Out of Eden taught us early that success comes in so many different forms: They sell their records quietly by industry standards, but their impact continues to be loud with consumers. The Doves were great, but how many artists can say they drove a record company into existence?"
On the Other Side
Those experiences brought a new perspective the trio had not considered before. Having come through the fires of doubt and uncertainty in their own careers and ministry, they felt they could support other young artists now experiencing the same challenges.
"When we started there weren't a lot of other younger artists," says Andrea, who is the most soft-spoken of the three. "But now we see so many really young ones coming into this industry and being thrown out there without having real discipleship and mentoring. They need to know to stay focused and humble and know that it's OK to keep their standards and stand up for what they believe."
"We want to be champions for change," Lisa says. "We want to tell young people, who are coming into this [industry], to just trust God. Don't be so concerned about what you can get. If this is what He's having you do, and you trust Him and lay down your life for Him, He'll put you where you need to be."
But Out of Eden hasn't just stopped at making friends with other young artists. The three members have thrown themselves into the ministry spotlight, partnering with World Vision (worldvision.org) to support child sponsorships and DATA (data.org) to champion the plight of HIV/AIDS and poverty victims in Africa, making appearances at Point of Grace's "Girls of Grace" teenage girl-focused conferences nationwide and developing Bible study curriculum for teenage girls with the youth organization Interlinc.
"We've seen so many people in the spotlight – singers of our day – say one thing and do the opposite," Andrea explains. "It seems that, as they get bigger and bigger, their standards get lower and lower. We just got tired of talking about our counterparts and decided to do something about it. It has become our vision to reach out to girls and show them there are other options."
Lisa adds, "We really want to champion these girls and say, 'You don't have to conform to the world's image of beauty. You don't have to be like this or act like this. Find out who God has called you to be.' We want them to know God has more for them than they can even imagine. God has a destiny and a purpose for their lives."
Lisa recounts a sobering story from a letter they received last year from a 15-year-old girl who had grown up in a Christian home but found herself in the middle of her third pregnancy. "Even though she grew up in church, she had never felt the love of God; and she was searching. When she heard a song called 'I'm the One' from our 'This Is Your Life' CD, she said that was when she really started to understand that God loves her regardless of her mistakes."
Have something to say about this article? Leave your comment via Facebook below!
advertise with us
Example: "Gen 1:1" "John 3" "Moses" "trust"
Advanced Search
Listen to Your Favorite Pastors