Hip-Pop
Debra Akins, CCM Magazine
Friday, February 27, 2004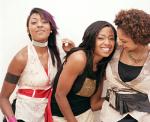 That story inspired a song ("I Know") on Out of Eden's newest CD, "Love, Peace and Happiness." As the album's title hints, it's what the girls like to refer to as their "party record." "The world is in such a state of uncertainty right now," Lisa offers. "Sometimes we're almost afraid to smile. But we have something to be thankful for; our happiness, joy and peace are not dictated by our circumstances. As Christians, we have a love, peace and happiness that never end, so we wanted to make a record that celebrates that. We wanted to rock the house with our music and record songs we love and can dance to."
Still retaining Out of Eden's signature R&B sounds, "Love, Peace and Happiness" surpasses its previous efforts with an energetic club feel that rivals any of the group's counterparts. It also happens to fit the unique touring event Out of Eden has planned for the spring. Inspired by the "Jump Off" post-Dove Awards party Out of Eden hosted for Gotee last year, the group is assembling its own version of a party to take on the road. The official "Jump Off" tour will feature Out of Eden and L.A. Symphony, along with a bevy of live DJs, break-dancers, freestyle rap contests and more.
"It's going to be a big traveling party," says Danielle, who was primarily responsible for the industry event last year. "We'll perform, but we're also going to just hang out, walk around and have fun with everybody. We're getting local youth pastors involved from both the suburbs and the inner cities, so we're really excited about how it's all going to come together."
"Right now, we just want to give people a breath of fresh air," Lisa says. "That's what this album and the tour are about. It's not about trying to escape reality; it's more about the fact that my reality is that I have the peace of God with me wherever I go. My reality is that God loves me, and His love never fails. My reality is that the joy of the Lord is my strength. We just want to be able to say that in everything we do."
Another major change for Out of Eden in 2003 was the new addition to the Kimmey fold. Andrea and her husband, Drew, welcomed the birth of their first child, Naia Joelle, in May. With Lisa and Danielle by her side in the delivery room, Andrea met her new daughter after 10 hours of labor. "She was a real trooper," Lisa recalls. "It was so painful to watch, but Andrea was her typical self and was so calm and collected."
"We were asleep in the room at one point," Danielle says, "and Andrea, right in the middle of her labor, is trying to be quiet so she doesn't wake us! Can you believe her?"
Lisa is quick to whip out her cell phone to show off a picture of baby Naia. The proud aunt programmed the photo into her phone so it pops up whenever Andrea calls. Lisa laughs about having passed the picture around to everyone at a booking agency meeting the day before.
While the ladies have had to make a few adjustments for travel and scheduling since Naia's arrival, they seem more than happy to do it. "My first job now is to be a mom and to make sure my daughter's taken care of," says Andrea. "It's neat to see my sisters as aunts and loving on her."
These three siblings have watched each other grow in faith, confidence, humility and, without a doubt, responsibility. Whether mentoring up-and-coming artists, teaching young ladies about integrity and modesty or helping to raise a child in their own family, the women of Out of Eden are leaders – leaders to whom the Christian music community and its fans are deeply indebted. Now about those "thank you" cards. …
Have something to say about this article? Leave your comment via Facebook below!
advertise with us
Example: "Gen 1:1" "John 3" "Moses" "trust"
Advanced Search
Listen to Your Favorite Pastors