Hymns: All Things Bright and Beautiful
Gregory Rumberg, CCM Magazine
Tuesday, April 19, 2005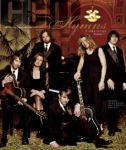 "We used to visit, and I remember my grandmother, an opera singer, singing in the choir, praising God with songs I had never heard before. They had very traditional harmonies and music, but I remember even as a child thinking it was all very grand and beautiful."
Musically, "Hymns" finds the group skillful at creating innovative praise & worship, R&B and pop arrangements, sprinkling influences from Al Green (as on the Psalm-inspired "Be Still, My Soul") and Andraé Crouch ("To God Be the Glory"). Lisa, who produced and arranged the project, found a common thread that boosted Out of Eden's work. "Worship is what is done to please and bring glory to God," she says. And of her research to select hymns, she comments, "I discovered a simplicity and purity in the writers' motives that is very inspiring to me. There is no sarcasm, no cool, idiomatic expressions — just a human heart reaching out to God in desperation for inspiration."
Roots and Wings
To shape their emerging faith, college students and young adults are recovering church traditions, including hymns, to boost the authenticity of their Christian experience.
At the four-day Passion '05 event held earlier this year in Nashville, 11,000 college students gathered across denominational lines to pray and worship. Among the inevitable praise choruses were historical selections such as "How Great Thou Art," "Amazing Grace" and "Phos Hilaron" ("hail gladdening light"). Each was sung in full voice to modern tunes, according to recent college grad Lane Wood, a spokesperson for the event.
"Hymns remind us that this [worship and faith] isn't a new thing. People have been worshiping God for years and years," says Lane, who works with students at a Murfreesboro, Tenn., Baptist church. Like Cleveland, he advocates a mix of hymns and praise choruses, benefiting not only students but also to promote multigenerational worship.
Back on campus, students search for authentic experiences to validate faith. For almost 100 Reformed University Fellowship groups across the country, hymns are increasingly keeping students company on the journey. The Rev. Kevin Twit serves as the RUF campus minister at Belmont University in Nashville and produces the grassroots-driven "Indelible Grace" series of independent recordings recasting hymns. Twit says loyal listeners include evangelicals and mainline Christians all over. "I talk about a sign my mom found at an antique store once: 'My grandmother saved it, my mother threw it away and now I'm buying it back.' I think a lot of younger people are feeling that, saying [the "Baby-Boomer" generation] handed us Christianity with no connection to tradition."
To reconnect, rising alternative worship forms tap into the early church practices. Ancient-Future worship, championed by church scholar Robert Webber, finds intersections between classical Christianity and postmodern thought, reviving sacraments and liturgy. Emergent worship, described by author and pastor Dan Kimball, goes a step further as a multi-sensory experience of old and new church traditions. Add thinkers like Sally Morgenthaler ("Worship Evangelism"), Brian McLaren ("A Generous Orthodoxy"), Spencer Burke (author/ theOooze.com creator) and others, and it's clear a new day dawns for Christian worship. Hymns remain at the ready on the horizon.
"I wouldn't say that it's a majority of college students that will connect with hymns," Twit cautions, "but I do think that the people who connect with them are going to be the movers and shakers and the influencers of the coming generation."
Rev. Twit recalls a group of college-aged leaders he met nearly 10 years ago, men who yearned to dig deep into worship to discover God's character. Now, those men — Jars of Clay—are releasing "Redemption Songs: A Collection of Reinvented Ancient Hymns and Spiritual Songs" (Essential) on March 22 as their unique contribution to the current worship music conversation.
Have something to say about this article? Leave your comment via Facebook below!
advertise with us
Example: "Gen 1:1" "John 3" "Moses" "trust"
Advanced Search
Listen to Your Favorite Pastors