Joy Williams: Back and Better Than Ever
Matt Conner, CCMmagazine.com
Thursday, March 12, 2009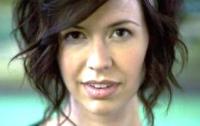 It's a new day for Joy Williams.
The popular female vocalist has taken up playing her own instrument, expanded her songwriter's palette and abandoned the traditional label—all in an effort to be true to herself and create art on her own terms. And while this might surprise those simply wanting more of the same, the result is a happier artist and, hopefully, an energized fan base.
Nowadays, Williams is not only writing her own songs, but looking to place hits on the albums of others. American Idol alum David Archuleta grabbed one for his debut, and more are certainly on the way as Williams recently signed with Warner Chappell—the famed publishing house that also features in-house writers Sheryl Crow and Timbaland.
Still, an artist longs for their own room to breathe, and Joy recently sat down to talk about just that—finally debuting some new material under her own name after a three-year hiatus.
CCM: A good place to start seems to be the amount of time since we last heard from you. Obviously, you've been writing, but why the delay since the last album?
Joy Williams: At this point, I have been concentrating so much on co-writing that I haven't made much time to write for myself. The EP [One of Those Days] is the first love child coming out. [Laughs] Literally, that came as a major serendipity. I was working with my friend, Jeremy [Bose], who actually ended up producing this EP. We had been given a task to write a commercial for Arby's and ended up writing this song called "What Can I Do (But Love You)." I was like, 'Wow, this is a weird Willie Nelson style song. It's old meets new.' I loved it, but we were too late for the contest. So we ended up not getting that.
Four weeks before that, we had been sitting down for a TV pitch idea, and within a half hour had come up with the song "One of Those Days," and I was just literally talking about what had happened in the last week. The filter was totally off, and I was just wanting to vent on how bad the week had been. [Laughs] So it was birthed out of those random afternoons where it was originally for something different or for other projects, but then when I went back to [these songs] again, I thought that I would love to sing them. I wanted to perform them and not let them gather dust in some song catalog somewhere. There's life in them.
CCM: Does it feel good to get something out there again?
Joy: It does. It's really invigorating. It causes a vast array of emotion—excitement meets curiosity meets some nerves. Ultimately, I'm just really stoked to be able to do this again. I didn't realize that I had missed it so much until I started doing it. This new season is only the beginning of a lot more years of making music. I'm excited about what that might look like, and I'm on tiptoe about it all.
CCM: In terms of expectations, is it hard to know what to expect for your own success at this point?
Joy: Yeah, I feel the doors are wide open, and the opportunities are meandering and kind of endless. Being free of a conventional record label—Nate [Yetton, husband] has started Sensibility Music, which is our own company that we started—this is such a good era to do this in. We've got a mailing list online, and it's person by person by person, waking people up that there's new music out there. We've had really good responses [to the music]. When it released to iTunes, it was up to No. 28 on the iTunes Pop Chart, which was totally a surprise. I'm excited about what the future will hold and feel the challenges will be many, but so are the thrills.
I'm also excited to learn what it will look like to perform this music live in the next few months. I feel like I'm treading new ground every day. I've never played an instrument live by myself, and now I'm starting to push myself that way which is really, really scary but again really exciting. [Laughs] I feel the more I'm getting pushed, the more I'm discovering what I can do, believe it or not. There are a lot of other people out there doing their own music and paving their own path, and it's possible to do it this way and grow it.
Have something to say about this article? Leave your comment via Facebook below!
advertise with us
Example: "Gen 1:1" "John 3" "Moses" "trust"
Advanced Search
Listen to Your Favorite Pastors