Michael W. Smith and Leeland Mooring: Eye 2 Eye
Jay Swartzendruber, CCM Magazine
Tuesday, January 16, 2007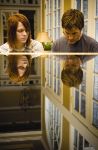 If you were Michael W. Smith and you were looking to release a new album, what kind of record would you make?

After all, this would be your first album in two years, and the musical landscape has changed significantly. Today's Christian album sales chart tends to be dominated by rock acts such as Underoath, Flyleaf, Jeremy Camp, Jars of Clay, Third Day and BarlowGirl. And imagine if you'd known that a little over a month before your record came out, the No. 1 selling Christian album would be "Redeemer" (Solid State) by Norma Jean, a hard core metal band.
Your specialty? Pop.
"I didn't have any preconceived ideas, and I certainly wasn't going to try to be worship or be rock or whatever just to try to play it safe," says Smith. "I've never done that, nor will I ever." A lesser man might have been tempted to release a worship album. After all, Smith has led worship at his church for six years, and, then, there's the little fact that he's released two worship records since mid-2001 that have sold a combined 2.4 million copies. 
"First of all, I've got to be who I am, and, next, I've got to reinvent myself," he continues. "It's as simple as that, honestly. That's a real challenge – how you really stay true to yourself when you're trying to reinvent. If I've done anything right, I think I've reinvented over the years."
Indeed, during the span of his remarkable 23-year career, Christian music's leading man has stretched the comfort zone of his adult contemporary reputation with successful albums individually defined by rock, crossover pop, modern worship and, even, instrumentals.
But this time around? Unprecedented. To help him frame the heartbeat of his new album, Smith turned to a teenage kid from Texas. In fact, he would go on to give the young fella more songwriting responsibilities than he's given anyone since his storied partnership with Wayne Kirkpatrick.
That begs the question: What was he thinking?
"That's just not like me," the 48-year-old Smith says. "I'm going to co-write – sorry – with a 17-year-old kid? I didn't even know him!"
You could say the idea came out of the blue. Or, as Smith puts it, "It was all providential."
Change Your World
Flashback to late March, right before the Gospel Music Association's GMA Week. Thanks to a rare opening in his schedule, Smith took the opportunity to attend a Provident Music Group showcase at The W venue near Nashville. That night he discovered his favorite new band – Baytown, Texas' own Leeland – and more.
"I was blown away," explains Smith. "Literally, I felt like I was plastered against the wall. I sensed in my spirit that this is something extremely rare. I hope it's not because I've hardened my heart. I don't think that's the case. I just have a hard time finding something that moves me."
To say that he was simply moved by Leeland wouldn't be the half of it.
"Finding something moves you that is authentic and there is something about the spirit of it … that is what took my breath away." At this point, Smith, who is hosting this interview in his own Deer Valley Studios, gestures toward the musician seated to his left and says, "It was this guy here delivering those songs."
This guy is Leeland's front man, Leeland Mooring. As the kid hears Smith's praise, Mooring bows his head, his face, slightly changing color, begins to blend with his red hair. This wouldn't be the first time his modesty would manifest itself on this September night.
Have something to say about this article? Leave your comment via Facebook below!
advertise with us
Example: "Gen 1:1" "John 3" "Moses" "trust"
Advanced Search
Listen to Your Favorite Pastors