Michael W. Smith and Leeland Mooring: Eye 2 Eye
Jay Swartzendruber, CCM Magazine
Tuesday, January 16, 2007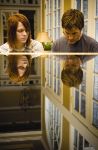 Michael W. Smith Project
So how would this unique band's front man and principal songwriter influence Michael W. Smith's new album? Of the 11 songs on the CD, titled "Stand" (Reunion), the kid co-wrote six songs and completely wrote a seventh himself.
When you hear Mooring describe how he came to write most of "Stand"'s song "Open Arms," you get some clear insight into the creative heart that Smith is so drawn to. "I went back in [my] room one night and was praying, 'God, let Your will be done in this writing session. If You want me to play anything, let it be something that You've given me,'" he recalls. "And I had an acoustic guitar on the bed in the bedroom. I couldn't stop thinking about God's love because I began to think about all the time that people – friends and family – have put into ministry. They have never really seen much success from it, you know? A lot of people give and give and give, and they never really receive much – especially people like my parents who have been doing it for so long.
"So I was in my room and began to cry because I was thinking I don't deserve to be in this place right now. If anybody should be writing with Michael W. Smith, it should be my dad. He's pastoring a church in little Baytown and has the heart of a servant. So I was sitting there, just crying, thinking about God's love. And then I began to think about how the church needs to be open arms of love to the world. And that night, God just completely dropped that song, "Open Arms," pretty much right there in the room."
During the conversation, sometimes it's easy to forget you're speaking to a guy who's in his late teens. But this is the same kid who went gonzo when "W" first called his house. As Smith puts it, "It's weird because, when we get together and create, it's such a serious thing – fun, but serious. And then, all of a sudden, when we break and he's at the house, he's like a 17-year-old kid! He and my kids are all going crazy, being nuts."
Hearing this, Mooring pipes in, "Nigel MacNeil, a guy our family travels with, would always say that. He has a real strong Australian accent. He's a real straightforward guy. The way he'd say it was not to be mean but just his humor. He was talking to my mom and said [mimics thick Australian brogue], 'I've never seen a young boy that can get up on a stage and minister under the anointing of God like someone who has been in the ministry for 20 years and then walk off the stage and act like a five-year- old child – act like a little devil.'"
At this, the room erupts in laughter.
Giving Mooring such a large role in "Stand"'s creation wasn't Smith's only bold step with the album. Not even close. For the first time in his career, he completely relinquished his role as a producer on this, his 19th album. Instead, "Stand" was helmed in its entirety by Matt Bronleewe, who also served as one of the record's key co-writers. Smith, the quintessential keyboard player, also agreed not to include synthesizers or programming on this album. His vocals, meanwhile, were recorded "dry" – free of reverb and electronic delays. And, to top it all off, "Stand" was recorded in less than 45 days. Each departure was significant, and it shows.
As Bronleewe states on his infuzemag.com blog, "We tracked with a full band at the famed Dark Horse Studios. The band was a collection of some of the best players in the business, including guitarists Bruce Gaitsch (Madonna) and Paul Moak (Mat Kearney), drummer Lindsay Jamieson (Ben Folds), bassist James Gregory (Shaun Groves), keyboardist Patrick Warren (Fiona Apple) and Michael W. himself manning the piano. It was an amazing time in the studio, with the players listening intently to each other and reacting to each other's cues. I wanted this record to sound 'real,' not 'processed,' and I'm happy to report that having such a stunning pool of talent assembled at the same time in the same studio helped to accomplish that goal.
Have something to say about this article? Leave your comment via Facebook below!
advertise with us
Example: "Gen 1:1" "John 3" "Moses" "trust"
Advanced Search
Listen to Your Favorite Pastors