Michael W. Smith: Ready for His Close-up
Roberta Crouteau, CCM Magazine
Tuesday, December 07, 2004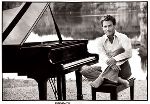 He shares a middle initial with the leader of the free world — and, in fact, has been dubbed "Dubya" by the original Dubya himself — via a friendship that began more than 15 years ago when the first President Bush occupied the White House.
That initial "surreal" meeting happened in 1989 when Michael W. Smith was invited to play for "Christmas in Washington." Soon after the concert, a Secret Service agent approached Michael with the request to come to the White House by invitation of President Bush. He says he still cringes at the memory of asking the President if the piano was in tune when invited to the East Room to play Christmas carols for the first family. ("I thought, 'You idiot, what are you doing?' I was trying to be funny.")
But Michael's friendships with presidents didn't end there. He says he was introduced to George W. before he was even the governor of Texas. In fact, the two met when they played a tennis match against each other — Michael and a relative against Bush senior and junior. "We killed them. And I was like, 'This is it. This is the end of the Bush-Smith relationship.'"
Not hardly. Michael says he and the current president remain friends and stay in touch on a regular basis. So, if you're thinking his relationships hit the top of the figurative food chain (which they do), then just imagine his career doing the same thing over the past 20 years, soaring steadily skyward even amidst the myriad of twists and turns he welcomed on his path.
In between winning countless awards and accolades as a musician and, in fact, helping to create the success of what is known as the Christian music genre, Michael has also taken on everything from the expected (marriage and fatherhood) to the challenging (building and pastoring a new church community, starting his own record label) to the surprising (starring in a film).
This year alone he has performed for millions with his patriotic "There She Stands" before the President's speech at the Republican National Convention, jammed with U2 during a studio visit in Ireland and is currently developing his acting chops by accepting the lead role in the Steve Taylor-directed and produced indie film, "The Second Chance" (set to hit theaters next fall). And somewhere in between all that, he finished the 18th album of his career, "Healing Rain," which released Oct. 26.
This latest effort is an album that follows up two immensely popular forays into worship music with 2001's "Worship" and the 2002 follow-up, "Worship Again." The five-year "break" from making a pop album (after 1999's "This Is Your Time") wasn't so much a break as it was a chance for Michael to explore his other musical dreams. "Freedom," the instrumental album and the two worship projects allowed Michael to stray from formula — but all along the way he was continuing to write songs for the eventual, "next" pop album. And along the way, he picked up another Smith, Martin Smith, that is, of the U.K. band Delirious, as a writing partner.
He says of the pairing, "I'm a big fan of Delirious and a really big fan of his writing [which includes the modern worship classic "I Could Sing of Your Love Forever"]. I thought of Martin because I thought I would love to be able to do something that has a sort of vertical thing, but it's progressive and not corporate — and that's what Delirious does." That duo did end up producing magic. The first lightning strike? The song, written in Martin's English homeland, that became the new album's title, "Healing Rain" — a cut that, before its release, had already birthed a same-titled book, DVD, seminar and a whole lot of buzz.
Have something to say about this article? Leave your comment via Facebook below!
advertise with us
Example: "Gen 1:1" "John 3" "Moses" "trust"
Advanced Search
Listen to Your Favorite Pastors