Natalie Grant: Even Better as the Real Thing
Christa Farris, CCM Magazine
Tuesday, April 05, 2005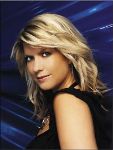 This Ain't No "Desperate Housewives"
But what led to what's probably Natalie's greatest "awakening" of all began in a rather unlikely place — in front of her TV — as she watched one of her favorite shows, "Law and Order SVU." On this particular episode, the show's focus was on the issue of human trafficking, something Natalie hadn't heard about before.
"They were showing these kids who had been brought into America. One of them was going to be sent to be a servant at a house for underage labor. He was 8. And another kid was being held in a basement at a house and being used for sexual exploitation," Natalie recalls. "And I was like, 'No way. This isn't happening in America!' They were showing these kids who were being hauled off in cages. They were all chained up and given only a little amount of food. Basically they were only let out for sexual favors. And I didn't exactly know why at the time, but I couldn't get away from that image of that show."
Afterward Natalie was amazed at what she found when she conducted an Internet search on "human trafficking." She discovered that more than two million children had been forced into prostitution worldwide, including around 25,000 in America. "I was like, 'You've got to be kidding me — that somewhere, while I sit here in front of my nice little laptop, watching my television, there's an 8-year-old who's being forced to have sex with someone.' I couldn't fathom it," she says. "And then I got really ticked off. Here we are as the church — and I'm so grateful for all the organizations that are feeding starving children — but these are starving children who are also being forced to do the unthinkable. Why is it that in the church we haven't heard about this? I've never heard someone going, 'We need to reach out to these kids.'"
After taking her Web research a little further and searching "faith-based organizations that deal with human trafficking," she found an organization called Shared Hope that addressed the issue; and she began to uncover stories of people who've actually been rescued from their plight. "I'm sitting here at 3 in the morning, and I'm bawling my eyes out. I thought, 'I have to do something about this.'"
Mere coincidence? She thinks not.
After reading more on Shared Hope, Natalie was impressed by what the organization was doing to help. "The thing that was important to me was that it was more than merely providing food and shelter," she comments. "They were giving them education. And after they completed their schooling, they gave them job training, basically enabling these people to have a successful life. So I was interested to know more."
And one teary phone call later she did. "I knew the lady on the end of that line was like, 'We've got some crazy girl that's crying on line one,'" Natalie says with a laugh. "I told her that I was watching 'Law and Order' last night, and she said, 'They showed the human trafficking episode, didn't they?'"
Then Natalie proceeded to tell her how she found the group online and that she could probably help raise money because she was a singer. And when the woman asked her name, the confirmation that she needed to do something became even more apparent. "She said, 'No way! I was just at your show in Portland last week.' And I said, 'I did do a show in Portland last week. Wow, God, You are so in this. None of this is happening by chance; this is all part of a plan.'"
After connecting with the organization's founder, Natalie learned that the office members at Shared Hope had recently prayed together and wholeheartedly believed that this was going to be the year that human trafficking would get a real public platform. And it turns out that with Natalie's help, it would. But first she would get invited on a trip to India that would change her perspective forever.
Have something to say about this article? Leave your comment via Facebook below!
advertise with us
Example: "Gen 1:1" "John 3" "Moses" "trust"
Advanced Search
Listen to Your Favorite Pastors