Natalie Grant: Even Better as the Real Thing
Christa Farris, CCM Magazine
Tuesday, April 05, 2005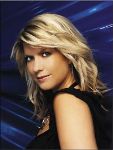 The Silent Treatment
But before she'd get that stamp on her passport, Natalie faced something she'd never struggled with before: vocal trouble. Unlike the typical diva with a booming voice, Natalie never really warmed up before she sang. Nor did she employ the Céline Dion practice of wearing a scarf and refusing to speak on show days. "I was always like, 'Puh-leeze!' But I was probably irresponsible with my gift," Natalie says. "I didn't know how to take care of it. And it caught up with me.
"I had done a Women of Faith conference in Denver and halfway through the show, I felt something happen. I could hardly speak. I couldn't sing, and they [doctors at Nashville's Vanderbilt Vocal Clinic] said that my left vocal chord had ruptured, and it was bleeding."
And then the typically chatty singer got a prescription she wasn't quite ready for: 21 days of total silence. Not wanting to permanently damage her voice, she obeyed the doctor's orders and was on her way to a foreign land as a "mute," whose only means of communication was hand-written notes.
But when she looks back, she really sees her silence as a blessing in disguise. "I think I was able to experience it on a different level because so often we speak without thinking. And when we talk so much, we can't digest things like we can when we just listen," she remembers. "It's so funny because I'm going to this ministry to meet these girls who've been forced into prostitution, and they're praying for me because they think I'm a mute. They had to explain to them: 'She's a singer from America,' and they're like, 'What?' and just want to pray for me."
Culture Shock
One of the first places Natalie, her husband and her road manager, Hope, visited while in India was the infamous "Red Light District." Natalie says that nothing could've prepared her for what she'd see there. "You're walking through the streets, and the poverty is already so overwhelming. Before you even go into the brothel district, you see how a family of 10 has to take shifts in sleeping because there's only room for one bed where they live," Natalie recalls. "You also see people going to the bathroom in the streets. I've been to the slums of Ecuador before — the poorest of the poor — and it looked wealthy compared to what they considered middle class here."
As they continued walking down the street, Natalie witnessed something else that stopped her dead in her tracks. "I saw what was probably a 7-year-old girl, and she's peering down from a cage. I just remember her little hands on the bars," Natalie says. "She looked out at us, and I thought I was going to throw up. Here are people just walking with their baskets of food in the hubbub of the day; and every day this girl looks out, she sees people, and they don't even notice her."
Stunned, Natalie grabbed her notepad and pen.
"I asked the man [K.K. Deveraj, who Natalie just calls "Deveraj"] who was taking us around, 'What's the deal? There's a girl in a cage.' And he replied, 'That's where she's held until she is brought out to service a client.' A lot of times they hold them in cages until they break their spirit and know they won't run away.'"
In the center of all the cages and chaos, however, is a place, the clinic, that Deveraj started to provide a sense of relief and start the process of rescuing people from human trafficking. "Deveraj is one of the most unbelievably amazing men I've ever met. My husband and I felt bonded to him immediately," Natalie says. "He rolls up his sleeves, and he's just living it. When he was 21, he was in Lebanon and working in the oil business. His family was very wealthy, and someone introduced him to Christ. He got radically saved and was immediately disowned by his family. He still has no contact with them even today. But he knew that God was calling him to go back to his people and tell them who Jesus is. And so he went back to Bombay and started this ministry."
Have something to say about this article? Leave your comment via Facebook below!
advertise with us
Example: "Gen 1:1" "John 3" "Moses" "trust"
Advanced Search