Never Givin' Up
Thom Granger, CCM Magazine
Sunday, April 25, 2004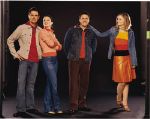 Folks who follow the world of pop music – Christian or otherwise – know that the release of a "greatest hits" album usually signifies the closing of some chapter  in the artist's life or career. It may be the last release on that particular label as the artist prepares to sign a new contract with another; or it may be the end of a particular endeavor, such as a band or vocal group.
For über-group Avalon, last year's "Testify to Love: The Very Best of Avalon" did not mark the group's final release for Sparrow Records, neither did it signify the end of the Avalon era. After all, the group's sixth album of new material (and eighth release overall), "The Creed" (Sparrow), hit the shelves in late February. So why should anyone assume there might have been trouble in paradise? Unless, of course, it was true.
It's been said that bad news comes in triplicate; and it's often not that first blow that levels you or even the one-two punch of the second, but it's that unexpected third sucker punch that scores the total knockout.
As original member Janna Long remembers it, "The moment, for me, came last summer. We had already been through so much two years ago and then to have Michael [Passons] leave last summer just basically had me throwing up my hands and saying, "OK, God, I've done this for nine years. It's been great, but maybe it's just time. Maybe this season of my life, this chapter of my life is just over; and I talked with Jody about that. When you've been beaten down, there's always that final blow."
The dark night of the soul for Avalon started in July 2001 with the most unexpected piece of news anyone could imagine. Sparrow Records Vice President of A&R Grant Cunningham, who helped form the group nine years ago and had been an integral part of all of Avalon's recordings, received a serious blow to the head during a soccer match and passed away shortly after falling into a coma due to swelling of the brain. To say the loss was devastating to the foursome was an understatement.
As Jody McBrayer explains it, "I don't think the typical Avalon fan probably knew who Grant Cunningham was, unless they are just the type to really read the credits diligently. Even within the industry, I'm not sure how many knew how deeply this affected us. Grant signed Janna and me to Sparrow; and if [producer] George Martin was the 'fifth Beatle,' Grant was the 'fifth Avalonian.' There wasn't a record that was made or a song that was sung or written that Grant didn't have his fingerprints on. So to be sitting at his funeral was a very surreal time for us; and it just left us with a very hollow feeling, wondering what we were going to do.
"Cherie [Paliotta, now Adams] left shortly after that, which, although she was a newlywed and wanted to give her new life some attention, I do think her departure had a lot to do with the pressure we all were under, the sense of loss we felt. Cherie was a very emotional person, too. She felt things much deeper than most people, which made her fantastic at what she did; but it also sometimes added an extra burden for her."
The loss of Grant and Cherie left Jody, Janna and Michael down but not out. After hiring fellow Truth alumnus Melissa Greene to replace Adams, the group recorded three new songs to accompany its greatest hits album, which released a year ago. It featured 12 former No. 1 songs. (Two of the three new songs climbed to the top of the Christian pop charts.) With the ever-present support of its fans, a fair amount of touring and a live DVD release last year, things were looking up again for Avalon.
Have something to say about this article? Leave your comment via Facebook below!
advertise with us
Example: "Gen 1:1" "John 3" "Moses" "trust"
Advanced Search
Listen to Your Favorite Pastors