Never Givin' Up
Thom Granger, CCM Magazine
Sunday, April 25, 2004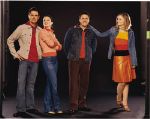 But bad news did, indeed, travel in triplicate. As Jody tells it, "We had a meeting at Michael [Passons]'s house one day, and he told us he was going to move on to other things. We sat and cried and felt like the rug had been pulled out from under us. Things had felt great with the new group, and Michael seemed to get along and blend vocally with Melissa really well. But Michael had been with us from the beginning and just felt it was time for him to do something else. It's weird, but, since his departure, it seems everyone is looking for some scandalous thing to have happened there. It makes me just want to say, 'Look, I'm sorry to disappoint you that we don't have some juicy gossip or 'Dynasty' episode happening here.'"
"The fact of the matter is Michael is a songwriter," adds Melissa, "and there were songs Michael brought to Avalon that we turned down because they sounded like personal, solo songs; we don't record songs like that."
"That's why I chose to make my solo record," continues Jody, who released "Who I Am" in September 2002, "There was this group of songs that I had either written or co-written that I knew would not work for Avalon. You can't force your vision on three other people. I think those kinds of issues contributed to Michael's decision to leave the group. But he is going on in a solo ministry, and we wish him the very best."
But best wishes aside, Michael's departure began a season of self-examination for the singers that, quite literally, brought the group to its respective knees. As new member Greg Long (who was only watching from the sidelines at the time as Janna's husband) tells it, "When Michael left Avalon, I can tell you even from a spouse's vantage point – as well as Jody's friend – Avalon almost was not. Melissa had just moved to Nashville and bought a home, and … things almost came to a halt right there."
Season of Their Discontent
With circumstances as difficult as they were, the criticism Avalon continued receiving – and had felt for years – from the Christian industry couldn't be coming at a worse time. As is the case with pop counterparts such as the boy bands and "American Idol" winners, the public may love them to the tune of gold or platinum; but the critics just seem to love to … well, criticize. The same has seemed to be true for Avalon from its inception, according to its members. No matter that the group has now garnered 19 No. 1 songs, 20 Dove nominations and three Dove Awards as well as the American Music Award for its "Contemporary Inspirational Music" category, the fact is that critics – both Christian and mainstream – never seemed to warm up to superb, pop song stylists like these. They do, however, seem to gravitate (sometimes indiscriminately) to even the most mediocre singer/songwriter types.
Says Jody, "I think from day one we've had to live down [the criticism of] being 'manufactured' or put together. The concept of the group was not mine and Janna's; we were approached [and asked] if we would be interested in being part of something like this. For the first three or four years, that was a real cross to bear for us. Most Christian bands formed in college or in the garage or at their church; but, for us, it was really different. Now it's more commonplace; but, even so, we were always seen as the glossy picture and production style artists. That's something that, for us as individuals, is a part of who we are. But we always knew there was so much more."
"The thing I don't understand about the critics is that they seem to disrespect these types of artists from the outset by the way they were discovered," adds Janna. "I mean, if their talent is there, why does it matter how it came to a label's attention? Whether you are discovered by someone hearing you at your college or by your being in a talent search, your talent is the same."
Have something to say about this article? Leave your comment via Facebook below!
advertise with us
Example: "Gen 1:1" "John 3" "Moses" "trust"
Advanced Search
Listen to Your Favorite Pastors