Never Givin' Up
Thom Granger, CCM Magazine
Sunday, April 25, 2004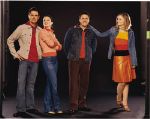 "It's been a difficult thing for us within the industry, in particular," Jody continues. "People who love our music have been extremely supportive of us, but the industry has been quick to write us off for reasons none of us completely understand. For example, we won the American Music Award last year. My wife, who works in the industry, came back to her office after the Awards, all excited to tell her co-workers; and people in her office said, 'Oh, the only reason Avalon won is because they were there.' We just have a hard time understanding why people in the industry seem to want to tear us down when we get such great feedback from our fans.
"All of that leads us to places that make us ask, 'Why are we doing this? Is it to please industry types, our audiences, the Lord or ourselves?' Obviously, we feel this is our calling, our ministry (and a very viable ministry); but we also do a lot of this for ourselves. The kind of music we record is the kind of music most of us would listen to at home. We love R&B/pop music, and we try as best we can to do what we love within the formula we're given."
"The funny thing was," says Janna, "although inside the group we felt very weary and fatigued, it seemed God just continued to do things that were just blowing us away. I remember we had this one show last summer when Greg was filling in after Michael left, where we really felt God's presence in the concert; and people were really responding with their own worship more than what we see normally. It seemed like the harder things got for us, the more things started happening for our ministry. For me, that was even a bigger sign of God's communicating: 'I am not done with you yet.'
"There's this song Jody sings on the new album called 'You Were There' that has a line in it that says, 'You were there when obedience didn't make sense.' For me, it was like a light bulb went off in my head because, even though my world as I knew it was crumbling, falling down, I did not feel a release from this [group]. So, for me, I just resolved that until I felt differently, I would just keep showing up for work."
Reinvested
And show up they did, along with about 15 of the industry's top songwriters, to a "writer's camp" of sorts, put together specifically for Avalon to begin the process of writing for the album that would become "The Creed" (Sparrow).
"The writer's camp was a vision of Grant Cunningham's," explains Jody, "though we had never done it before. We talked about doing it for "Oxygen" but ran out of time. We mentioned it to Brad O'Donnell, our new A&R guy – who's had some big shoes to fill – and he stepped up to the plate on our behalf and let us give this a try. Part of the reason we wanted to try this was because we wanted to invest more into the songs ourselves. Did we feel we wanted to try writing all the songs alone for the first time? I don't think any of us – with the exception of Greg – are really good enough writers to tackle that alone."
"It was a desire in us to nourish that gift," adds Melissa. "I had always wanted to write with Cindy Morgan, so we invited her to come; and we all agreed upon the writers we wanted to be a part of this."
Greg continues, "We were invited to tell this group of writers what we were feeling, the things we wanted to say on this record. A lot of ideas were birthed there but not turned into completed songs. But three songs that made it onto the record came out of that experience. It was really amazing. I have to tell you it was really interesting," Greg continues, "to watch the transformation in Jody alone, who said on the tour bus at one point, 'Maybe this is done. Maybe we're done with this.' Less than three months later, I heard him say, 'I don't care if we've got a record label or not. If we're supposed to keep doing this, we'll make our own records if we have to.' That's a significant transformation."
Have something to say about this article? Leave your comment via Facebook below!
advertise with us
Example: "Gen 1:1" "John 3" "Moses" "trust"
Advanced Search
Listen to Your Favorite Pastors