Never Givin' Up
Thom Granger, CCM Magazine
Sunday, April 25, 2004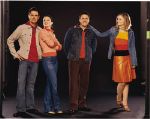 That transformation is palpable on "The Creed." Produced by the "dream team" of Charlie Peacock, Brown Bannister and Tedd T., the album sports the same perfect, pop music that fans and critics alike have come to expect, but its lyrics dig deeper at times … if not too specifically. When asked why none of the lyrics seemed to address the trials of the last few years by name but rather in broader, more religious language, Jody tried to explain.
"I feel like what we're called to be as a group is sort of an 'all things to all people' kind of thing. I don't think we're called to do deeply introspective songs in Avalon, but I guarantee you that on this new album – more than any we've done – songs like 'Renew Me' represent our real heart's cry right now. 'You Were There,' as Janna said, is deeply meaningful for us. And I think one of the reasons we chose to record (and title the album with) "The Creed" is because even the first verse says, 'I'm broken and battered/And I'm desperately searching for faith to make sense of all of this mess.' We're sort of back to a place of embracing some real fundamental truths and, churchy or not, those lyrics are no less true for us."
"You know what?" Janna interjects. "I can't sing about drug addiction; I can't sing about an abortion; I can't sing about a marriage falling apart. What I can sing about is being a kid who has heard about God all her life and has had those crisis-of-faith moments when I have to ask myself, 'Do I really believe what I say I believe because my parents taught me or because God has shown His presence to me personally?' "
"There's a part of me that abhors 'Christian-ese' language," Jody continues, "because I remember a time when everything in my world just felt really crappy, and my pastor said that morning, 'God will never put more on you than you can bear.' I just thought, 'Forget this.' I think our music is a key that opens the door for us to communicate more fully to our audience in our concerts. In that context, we all really speak our hearts pretty plainly. I tell people we are jacked-up, screwed up idiots who are in constant need of the love of God in our lives."
It seems odd to say that a group as successful as Avalon might just be coming of age, but one senses a new resolve in the foursome to both push the envelope most associated with their genre and accept with deeper grace the "calling to which they have been called." Call it the results of a good mid-life crisis.
"Perhaps you have to go through some of the things we've gone through to reach that level of maturity and say, 'OK, maybe it's not as polished and pretty; and we're not as together as people thought," says Janna. "But coming out of that, we realize what our faith really means and how much we really do need God in our lives. For us, this is who we are; and I can't imagine being anywhere else. This is what we've always wanted to be and do. There is no disappointment here. We get to do what we love and at the same time, we feel like we're making a difference in people's lives."
Jody summarizes, saying, "Avalon always had this slick, polished persona that has been manufactured for us, and with it perhaps has come the idea that we are pop stars and not approachable. Over the past year we reached a point where we decided it's not about the Christian music industry anymore for us. There came a point where we had to say, 'OK, God, we're a ministry. With or without the industry's support, we're going to continue to try and reach people because that's what we are called to do … not as Avalon, but as four people who desire to use their gifts to bless and encourage God's people.'
Have something to say about this article? Leave your comment via Facebook below!
advertise with us
Example: "Gen 1:1" "John 3" "Moses" "trust"
Advanced Search
Listen to Your Favorite Pastors