Never Givin' Up
Thom Granger, CCM Magazine
Sunday, April 25, 2004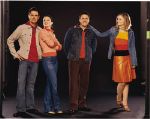 "We want to be entertaining, and we want to do it with excellence; but, at the same time, we also want to be truly authentic with our audience and tell them who we really are and what we really believe. The only reason we have the right to stand up here and do this is because of what Christ has done for us. That's what Avalon is called to communicate. That's where the rubber meets the road for us."
---
The Road Behind … The Road Ahead
Most Christian pop music fans know that Greg Long isn't just the "new guy in Avalon" or the "husband of Janna from Avalon." They know, for instance, just how long Mr. Long has been singing "How Long," his first single and first No.1 song from his first solo album, "Cross My Heart," in 1995. It was the first of four solo albums that each delivered at least one No. 1 hit on Christian radio.
But after stepping in to help his wife and friends in Avalon when Michael Passons left the group last summer for a number of already booked dates, the resulting blend of voices and hearts led Greg to agree to join the group permanently. And though the familial aspects of that decision are self-evident, being an 'Avalonian' didn't lessen his desire to create music as a solo artist. In fact, if the songs on his fifth and latest solo album, "Born Again" (Christian Records), are any indicator, it would appear the experience has caused the singer to become more personal than ever before.
The album's title song tells the story of Greg's own baptism at the hands of his father, an itinerant preacher/evangelist who led revivals in various parts of the country. "All my life I was a vagabond," he says, recalling a childhood spent on the road. "My two brothers and I were students at a Christian school but only spent five to 10 days a school year at the facility itself. The rest of the time we were out with the family on a bus being tutored by my mom. And when your friends are back home in South Dakota, you make short-term friends at the churches Dad's ministering at, getting real chummy but knowing by Friday you'd be done.
"My dad had to make a choice between being away from his family most of the time or taking them with him in an RV on the road. I personally am glad he chose the latter because whatever was lost in the sense of rooted-ness in a certain place was more than made up for by being with him. I guess it prepared me for the life I live today."
In college, Greg started a men's trio that traveled every summer and weekends for concerts. After four years, he joined up with a touring evangelist for whom Greg would provide the music ministry and lead worship. As Greg says, chuckling a bit, "Yeah … outside of working in the campus bookstore when I was in college, I've never really had a 9-to-5 kind of job. This is who I am. It's in my blood."
As for the title song, Greg explains, "My parents taught me that Jesus loves me and encouraged me to give my heart to Christ, which I did at 5. But they never forced me into any other religious commitments or service. I sang on the platform when I was a kid, but that's because I asked to do that. It wasn't until I was 12 that I asked to be baptized. We were ministering at a church in Florida on the Gulf of Mexico at the time, and the lyric of the song is literally the story of my baptism. In fact, the video we made for the song [included on the enhanced CD] features actual footage of my baptism that was shot for home movies at the time!
"When I first mentioned the title of the song to Don Koch, who I wrote it with, he balked a bit, saying it sounded like a title of so many songs that had been recorded years before. But I said that it wasn't a song about the need to be born again per se, but it was my testimony, my life, my story; and nobody's testimony is invalid. Having said that, I hope that by the end of the chorus, when the lyric says, 'It's not about what I was/It's about what I am," anyone who has found Christ and been found by Christ should be able to relate to those words. I mean, I believe we are compelled to present Jesus to our culture in a way that is contemporary, and I hope the music does that; but the term 'born again' comes out of the mouth of Jesus himself, and there's no reason to shy away from that."
Have something to say about this article? Leave your comment via Facebook below!
advertise with us
Example: "Gen 1:1" "John 3" "Moses" "trust"
Advanced Search
Listen to Your Favorite Pastors