New Artist Spotlight: Revive
Brandon Heath, CCMmagazine.com
Thursday, May 28, 2009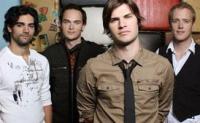 This month, Brandon Heath interviews his tour mates Revive, a new band from Australia.
"I'd love to introduce you to my new friends and tour mates, Revive. Spending the last couple of months with them and seeing their new record launch has been exciting to be a part of this next chapter in their life."
– B.H.
Brandon Heath: Hey this is Brandon Heath. We're on the phone today with Dave Hanbury from the band Revive. Dave, how are you doing?
Dave Hanbury (Revive, lead vocalist): I'm good, mate, how about you?
Brandon: You said, "mate"?
Dave: That's our thing, "Mate."
Brandon: Do you mean you're Australian?
Dave: Didn't you know? You mean you never noticed?! [Laughs]
Brandon: So, Dave, where you calling from today?
Dave: We're on the road in Jonesboro, Ark. We've never been here, so we're excited to be here.
Brandon: That's funny… I'm in Jonesboro!
Dave: How bizarre!
Brandon: Are you on tour right now?
Dave: Yeah, man, I'm on tour with Third Day, and this guy…
Brandon: What's his name?
Dave: It starts with a B…
Brandon: His name is BRANDON HEATH! We're both on tour right now. Where are you; are you in your dressing room right now?
Dave: Yes, this is my dressing room. Where are you?
Brandon: I'm in my dressing room!
Dave: That's weird. Budget cuts. [Laughs]
Brandon: We're both on tour with Third Day, and is this your first U.S. tour?
Dave: No, it's not actually. We [were] on the road with Third Day for 50 or 60 dates last year. We did spring last year and the fall, so we've done plenty.
Brandon: So you've been out with Third Day for a while?
Dave: Yeah, it's pretty sweet.
Brandon: And you guys … did you move to Nashville? Where are you living?
Dave: We live in Atlanta at the moment. We relocated from Australia at the beginning of 2008.
Brandon: So you're not [doing the] typical "move to Nashville, try to get a record deal thing"?
Dave: No, man.
Brandon: You moved to Atlanta. How did your relationship start with Third Day?
Dave: Yeah, our story is anything but typical. Third Day came to Australia three times. They came for the third time in January 2007. We opened for them. It was a pretty funny story. We were supposed to open for Steven Curtis Chapman. They called us and said, "Yes, you've got the opening spot; we're excited," and it fell through an hour later. But the promoter felt really bad and said, "Hey look, the next kind of American artist that comes through, we would love to use you," and it ended up being Third Day. And God works in mysterious ways. … Much of the reason we're here now is those boys. So we ended up opening for them January 2007, and we just got on really well. We asked the guys to watch our set, give us advice, feedback. … We cornered them in catering, and then you know, at the end of the shows in Australia, they said, "Look, if there's anything we can do for you boys, let us know." And we weren't afraid to listen up.
Brandon: So [when] you guys started … when did you decide it was the right time to move to the U.S.?
Have something to say about this article? Leave your comment via Facebook below!
advertise with us
Example: "Gen 1:1" "John 3" "Moses" "trust"
Advanced Search
Listen to Your Favorite Pastors