New Artist Spotlight: Revive
Brandon Heath, CCMmagazine.com
Thursday, May 28, 2009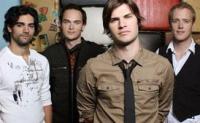 Dave: Before we moved, we did two trips to America as a band. The first was business, meeting with all the record execs in Nashville … that kind of stuff. At the end of the trip, we hung out with the Third Day guys more. We went home, and we kind of gleaned from each other that we decided to work together. So we went home, and we started writing songs and started sending them to Mac [Powell, lead vocalist of Third Day]. We wrote about 50 songs and e-mailed them, and he would go, "I like it; I don't like it; needs work." Then when we had a whole bunch together, he said, "OK, let's do songwriting. Why don't you boys come over to my place for a couple weeks?" We did that, and halfway through the time together he said, "Hey, we're doing a show tomorrow in Charlottesville, Va. Do you guys want to open for us?" And we were like "OK." We were pretty nervous. We jump on the bus, head to Charlottesville; and we do our very first show in the U.S. in front of 4,000 people. I'm talking no café, no nothing. This is our first show. We are really nervous and little did we know. … We talked about working together with Third Day, but this show was an audition. They wanted to see how we got on in front of fans. We got on stage, and I remember all the boys standing side stage with their arms folded and just watching us play. And I get out there, [and] I think as soon as they heard the Aussie accent and we said, "Thanks for having us. Thanks for being so good to us because this is our first time playing in the U.S," there was no going back from there. They loved it. We got off stage, and we went home; and then we waited for about a month to hear back from Third Day. You know … would we be on their next tour? Would they be involved in our album? We got a call from Mac, and he said, "Let's do it. We'd love for you guys to move over here. Can you be here in 10 weeks?" And I was like, "Yeah, no worries!" And then I hung up the phone and said, "Wow. Ten weeks is not that long."
Brandon: Did you ship a lot of your stuff?
Dave: It's expensive to ship stuff. You might as well sell it and buy something else. We really brought one guitar each and one suitcase. We sold everything else, sold our cars. Our wives resigned from their jobs. … Mike was not married when I hung up that phone with Mac. He had a serious girlfriend. The three other boys were married, but Mike was not. And he had to get engaged and married in 10 weeks. They honeymooned, and two days later were on a plane to the U.S.
Brandon: Wow!
Dave: So it was pretty crazy.
Brandon: So you brought wives, everybody. This wasn't just four guys. This was families, replanting. How has it been as far as the reception in front of the U.S. crowd? Has it been better or worse?
Dave: Honestly, it's been better. … In Australia, people are—even Christian people—have a reserved mentality. And there aren't many Christian folk in Australia, so a lot of audiences would be hostile to what we have to say. So it's pretty hard; we did a lot of school ministry. We would go into schools. [There are] different laws here. Like [in] public school, you have to be really careful about your faith, don't you, sharing what you believe. In Australia, it's weird because there's this carryover from imperial England where you're supposed to share your faith in school. So they have these seminars every two weeks where pastors and chaplains at schools can book us to play. So playing in front of a Third Day audience was easy compared to 1,000 kids where two to three percent would call themselves Christians. So we tried to break down barriers and just rock and have fun and then share our testimonies. … So playing in front of an audience like we will be tonight is pretty easy.
Have something to say about this article? Leave your comment via Facebook below!
advertise with us
Example: "Gen 1:1" "John 3" "Moses" "trust"
Advanced Search