Newsboys: The Way They Roll
Lindsay Williams, CCMmagazine.com
Wednesday, June 03, 2009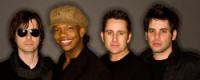 In this exclusive newsboys interview, new front man Michael Tait, along with Jeff Frankenstein and Duncan Phillips, discuss the recent line-up changes and the band's new direction. (Be sure to check out the newsboys cover story in CCM's premiere Digital New Release Guide).
CCM: Why the transition, and how did the line-up change come about?
Jeff Frankenstein (keys, bass): I don't want to speak exclusively for Peter [Furler, former lead singer], but I think that he had just gotten to a crossroads where he felt like he just wanted to get off the road, specifically for the fact that he had been on the road for 22 years! [Laughs]
CCM: Yeah, well that can wear on anybody.
Jeff: Doing about 16 records in that time, I think, and doing all the records and all the shows and stuff … So for him, I think he wanted to have that time at home and focus in more on the songwriting part of what we do and the studio part of what we do—sort of be more of the brainchild of what we do. At the same time, the touring side of what we do—it's a pretty tough job. We do a lot of shows a year, and I think when we were thinking about going forward it was like the first person that spouted to mind was Mike [Michael Tait]—obviously somebody that we go back with all the way to the first days of dcTalk and newsboys. We've known him forever, and that was the first person that sprung to mind; and Mike was available. So this is like McDonald's and Burger King coming together! [Laughs] It's really cool. We're actually calling you from the rehearsal room today. We're working on it and hoping to transition everything smoothly over the next few weeks. So it's been really cool.
Michael Tait (lead vocals): When Jeff just said that, I thought about Pete's workload. To give you an idea of how tough this is … The newsboys as a professional, still touring band, making records for many years under the direction of the creative helm of Peter Furler … He did what we [dcTalk] did longer and by himself—no toby, no Kevin. So, you think he might get a little tired. So we talked about it, you know, kind of changing lead singer and lead singer. He's kind of giving me the "keys to the office," so to speak. Actually, here's the workload ... I was like, "There's no toby; there's no Kevin." He hits it hard. I'm honored. So far, this is not a honeymoon period. This is the way it is. These guys are jewels. The fans have embraced me. And at the end of the day the fans are very similar to dcTalk fans. I'm not Peter Furler. I don't have a bald head; I'm not white, and I don't speak with an Australian accent. [Laughs]
Duncan Phillips (drums): We're working on it though. We might take him to a speech coach.
Michael: It's been a blast so far just learning the songs and the way God speaks to me and gives me new vision and thoughts on these things that Peter birthed and [the guys] birthed years before I came on board.
Duncan: I think Pete felt like he couldn't give both sides 100 percent. When you're working as many years as we have, the weight or responsibility that you feel … He was really responsible for the records, really being the taskmaster behind them and also for the live show … There's only so many days in a year, so many hours in a day … And it was just after 22 years, if you can imagine, so he couldn't give 110 percent to both, which he had all those years. So now, I kind of feel that this is an even better situation where Mike is on here; he's an awesome singer. We can give the touring side 110 percent, and Pete now has the time to give the artistic side, or the recording side of what we do, 110 percent, too. So it's really like there are these two arrows flying through the air hopefully making a way bigger impact.
Have something to say about this article? Leave your comment via Facebook below!
advertise with us
Example: "Gen 1:1" "John 3" "Moses" "trust"
Advanced Search
Listen to Your Favorite Pastors