Newsboys: The Way They Roll
Lindsay Williams, CCMmagazine.com
Wednesday, June 03, 2009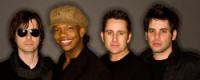 CCM: What do you hope fans take away from this record?
Jeff: It's hard to say. There are so many different things that people take away from it. Just being on the road for the last couple months, what I've noticed on the road is that people are really coming to the shows hungry to be encouraged. A lot of people are dealing with circumstances in their lives, whether it's financial or … especially when we were in the Northeast a few weeks ago … The economy's not very good; and jobs aren't very good; and financials … where the situations are having a toll on families and stuff. I think I've seen all these people come together to a show really hungry to be encouraged and to worship and to spend quality time with their families and enjoy the music. So for us, it's really cool. You work on a record like this for a couple years, and it just goes out and you start to hear the stories back. But I think you never know exactly what that's going to be. We just hope that it encourages people. Music has such an amazing power to touch people, but most of the time, we don't get to see that so much first-hand. It's that person driving down the road at 1 a.m. driving back from work who listens to some song on your record. And you get some story back like that where a lyric touched them or something happened. So those are the cool things …
CCM: What about touring?
Jeff: There's a tour in the works for the fall. We don't have all the specifics yet, but there will be something for sure.
Michael: The dates that you have now on the newsboys website—none of that's changing. Let's put it this way, make no mistake about it, it's different, and I could never replace Peter; I'm not trying to, but just know we're brothers, and you bring a little piece of that with you automatically.
Duncan: I'd really like to thank all of the promoters who have stuck with us over the last 20 years, who have supported us all this time. There are so many promoters all over the country who have really embraced this thing. And we weren't sure, but they've pretty much all come on board, and they are just so excited about the future of this thing … Most of them just say, "It's a no brainer. Michael Tait and the newsboys?! Yeah! Give us more! Give us more!"
Michael: dcTalk and newsboys … We've kind of shared a lot of the same people along the way—[media], managers, publicists, festival promoters. That said, I've had friends of mine who [called and said], "Is this true? Is a Peter Furler/newsboys show going to be a Michael Tait/newsboys show?" I'm a newsboy now! And they go, "Well that's awesome!" We're all a part of this thing. Make no mistake about it, the music you guys make, Peter and I, we're conduits … We all are in this band. It's about the music—the songs … We'll throw in a couple dcTalk songs for sure.

For more info, log on to newsboys.com.
Check out the newsboys on the cover of CCM's premier Digital New Release Guide.



© 2009 CCMmagazine.com. All rights reserved. Used with permission.

**This interview first published on June 3, 2009


Have something to say about this article? Leave your comment via Facebook below!
advertise with us
Example: "Gen 1:1" "John 3" "Moses" "trust"
Advanced Search
Listen to Your Favorite Pastors