On the Way to the Top
Lucas Hendrickson, CCM Magazine
Tuesday, July 20, 2004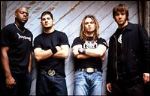 You know the feeling. You gaze at your own reflection for a split second too long, and the image starts to become unnervingly unfamiliar. You notice details of your physical appearance you had never seen before, and the questions start: "Who am I? How did I get here? Why am I here at all?"
Rob Beckley has asked those questions. He's had those moments when he wondered where his life, his relationships and his career were going. And out of those moments, he mustered his talents, creativity and calling and redirected those questions into song.
"Anytime I say the word 'you' in a song, it's basically me talking to me," says the lead singer and lyricist for Pillar. "Some people might take it as me talking to people, telling them they need to look at themselves in the mirror. But the song 'Staring Back' is actually me staring in the mirror, seeing a different person than who I really am."
Another question in the life of Pillar — which also includes guitarist Noah Henson, bassist Michael "Kalel" Wittig and drummer Lester Estelle — comes in the form of the title of its latest project, "Where Do We Go From Here." It's a valid question in the minds of the band and its fans, considering the extreme ups and downs the group has faced during the past couple years.
That rollercoaster ride began with the 2002 release of the band's landmark record, "Fireproof," and the hit single by the same name. "Fireproof" was the Kansas-born, now Oklahoma-based hard rock outfit's second effort for Flicker Records. When both the album and single started gaining momentum, the mainstream rock world took notice; and, truth be told, the band felt ready for that to happen.
"We did everything we possibly could to prepare for that album coming out," says Kalel, whose nickname rings in honor of Superman's Kryptonian birth name. "We had a good feeling about it, and we knew 'Fireproof' was a strong song. Our drummer at the time, Brad Noone, said, 'If this song isn't a hit, there's nothing more we can do.' We felt really confident about it."
"We wrote 'Fireproof' on Sept. 11 [2001] in Green Bay, Wis., in a youth room in some church with the TVs going all morning long," Rob remembers. "I already had the lyrics done, so it wasn't an influence; that was just the day we happened to write the music. When we finished it, we knew the song was going to be awesome; and with that, it sort of eased some of the tension in writing the rest of the album."
"Fireproof" sold more than 100,000 copies by the time mainstream label MCA got involved with the project, licensing the record from Flicker and re-releasing it in the fall of 2003 with a remix of the single and a cobbled-together bonus DVD of live performance footage. The single made it to No. 39 on Billboard's Mainstream Rock Tracks chart, and the album reached No. 6 on the publication's Heatseekers retail chart. Fittingly, the band picked up some publicity in magazines, including Rolling Stone and Hit Parader and found themselves opening for some of modern rock's heaviest hitters. 
"We got to do some cool shows with Korn, with Sevendust, another one with Trapt and some mainstream festivals," Kalel says. "We got just enough mainstream exposure to stick our foot in and see what it was like. But we've never talked like, 'Hey, we're gonna go mainstream and do this or that.' We just kind of did what we do — go play our shows and go through the doors that opened up."
Have something to say about this article? Leave your comment via Facebook below!
advertise with us
Example: "Gen 1:1" "John 3" "Moses" "trust"
Advanced Search
Listen to Your Favorite Pastors