Something Old, Something New
David Schrader, CCM Magazine
Friday, March 19, 2004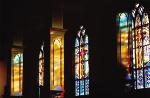 Despite sales of more than one million "Passion"-related albums to date, founder Louie Giglio won't fully accept his deserved place in the so-called modern worship music movement. This 45-year-old Atlanta pastor knows "there is nothing new under the sun" (Ecclesiastes 1:9).
"If you want to be on the cutting edge, you have to look backward, not forward," says Giglio, offering a glimpse of the thinking behind the organization/movement's new CD, "Passion: Hymns Ancient and Modern – Live Songs of Our Faith" (Sixstepsrecords). Along with his younger artistic collaborators, Giglio insists worship is timeless in God's eyes, whether conveyed in an elaborate 1833 hymn or a simple 2004 praise chorus. Now these two eras merge for this compelling offering
"Worship isn't modern or ancient to God," explains Giglio. "[But] these hymns remind us that our faith and worship aren't a week old. We're part of a stream that is thousands of years old. Many have gone before us and found Him to be true. I don't know how it can be better than that."
The Passion movement officially began in early 1997 when Giglio and other campus ministers welcomed 2,000 people to a prayer and worship event in Austin, Texas. Hoping to encourage spiritual awakening among college students, they saw attendance multiply for subsequent Passion rallies; and in 2000, its first "OneDay" gathering brought 40,000 students worldwide to a farm outside Memphis, Tennessee. Guest speakers at these summits have included pastor/author John Piper ("Desiring God", "Don't Waste Your Life"), Beth Moore ("Breaking Free", "Living Beyond Yourself") and the late Bill Bright, founder of Campus Crusade for Christ. The worship music of Passion – from artists such as Chris Tomlin, David Crowder Band and Charlie Hall – was given a permanent home in 2001 with the creation of the Sixsteps record label, a division of Choice Resources (parent ministry for the Passion conferences).
Recorded last spring at the Passion's annual "Thirsty" conference, "Hymns Ancient and Modern" was created by the participants with the self-imposed rule that no revisited song could be less than 100 years old. The essence of the project had been simmering for years. Tomlin, for example, was already known to infuse his order of worship with hymns and to morph classics like "When I Survey the Wondrous Cross" into sing-alongs such as "The Wonderful Cross." But it was a group discussion on the A.D. 200 hymn "Phos Hilaren" ("The Hilarious Light") that ultimately led to an entire Passion assembly of what Giglio calls "ancient-future worship."
Coincidentally, "Phos Hilaren" had separately intrigued both Crowder and Giglio. The hymn was sung in Jerusalem two centuries after the resurrection of Jesus. Early Christians had built a church over His tomb where a lamp was kept burning at all times. When they would gather for worship, the lamp – the "hilarious light" – was brought out from the tomb to represent Christ's presence among them. The lyrics of "Phos Hilaren" survived, but the melody was lost, inspiring Crowder, Giglio and Tomlin to write new music.
On the disc, the ancient words are spoken in corporate worship ("Hail Gladdening Light … Worthiest art Thou, at all times to be sung with undefiled tongue. We hail the Father, Son and Holy Spirit Divine"). Then, the updated composition "No One More Worthy" segues in with similar phrasings and bright, anthemic rock-textured instrumentation that is consistent throughout the set and with previous Passion recordings. "Though we really didn't want to set the exact wording to music, we were moved by its confession and wanted, in some way, to allow it to continue to be sung," explains Giglio of the fresh track. "We don't pretend to think that it rivals the original but hope it causes you to stop and marvel that you stand in a long line of followers of Christ."
Have something to say about this article? Leave your comment via Facebook below!
advertise with us
Example: "Gen 1:1" "John 3" "Moses" "trust"
Advanced Search
Listen to Your Favorite Pastors