Switchfoot: Learning to Breathe
Jay Swartzendruber, CCM Magazine
Tuesday, August 01, 2006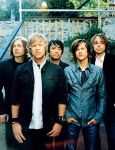 "'Why now? Why do an interview with CCM now?' That question kept me up last night," wrote lead singer Jon Foreman in an e-mail to me four days after my interview with his band Switchfoot. Indeed, brief pleasantries aside, that had been the very first topic I raised with my old friend and his four bandmates after firing up my recorder.
It was the kind of direct questioning that "Interview 101" courses will tell you to save for the second half of your on-the-record conversations. Something about helping interviewees feel relaxed, and, thus, more open and whatnot. Me? Then and there? I was banking on history – intangibles such as familiarity, friendship, integrity and, indeed, our common faith.
I first met Switchfoot's founding members – brothers Jon and Tim Foreman and Chad Butler – in late 1996. I liked them immediately. A lot.
Sadly, I can't say the same thing about their music. As the PR guy for Charlie Peacock's re:think label, I had been eager to see who we would sign as the follow-up to our beloved and wildly talented Sarah Masen. My introduction to this next new artist came when Peacock played our staff a VHS tape featuring live performance footage of a young Switchfoot, known then as "Chin Up." I was baffled. This was what our tiny familial label would bank much of its future on? Three words said it all: neighborhood garage band. Emphasis on neighborhood. While it won't bode well for my reputation as a music critic, I confess here that I didn't begin to see Switchfoot's potential until I heard final mixes from the band's Jimmie Lee Sloas-produced debut, "The Legend of Chin."
"I think it's really important to [remember] the early days," says Jon Foreman as I huddle with his band in the midst of their 33-city "Nothing Is Sound Spring Tour." On this cool, overcast day in Hartford, Conn., the six of us had retreated to a large backstage room in The Webster Theater, where Switchfoot would be performing for a sold-out crowd of 1,250 people in a few hours. "When we signed with re:think," Jon continues, "Tim was in high school, and Chad and I were in college. … We had a band in high school; that had generated some local interest, but we were never thinking we were going to get signed.
"We were like, 'Wow, this is legit; this indie startup is going to be great' … Charlie [Peacock] flew out, and we recorded some stuff. He flew back to Nashville, and the tapes got lost with his luggage. So, it's probably because of that that we got signed, 'cause we were pretty green!"
As Peacock prepared to sign Switchfoot to re:think, he became increasingly aware of his label's financial need for "deeper pockets." Thus, he sold the company to Sparrow Records, who, in turn, moved re:think's operations in-house. Since "operations" did not equate to "staff," I set out to pursue other record label adventures and never had the chance to represent Switchfoot.
At the time of Switchfoot's signing, the Christian music world wasn't even on the group's radar. Sure, Chad's father had been a member of the '70s "Jesus Music" band Parable, and Jon and Tim were the sons of a pastor; but they had no awareness of the industry or most of its artists.
"Our heroes were bands in San Diego like Heavy Vegetable and Three Mile Pilot – bands we thought were huge because they sold 30,000 records and toured outside of California," explains Jon. "We had no idea that Nashville existed as far as gospel music is concerned. There was no Christian radio in San Diego, so we were never exposed to it. So when re:think approached us, we were thinking, 'Oh man, there are people out there that are like us – people who are playing clubs and bars and churches.'"
Have something to say about this article? Leave your comment via Facebook below!
advertise with us
Example: "Gen 1:1" "John 3" "Moses" "trust"
Advanced Search
Listen to Your Favorite Pastors