The Afters: Far from OK
Lindsay Williams , CCM Magazine
Wednesday, April 09, 2008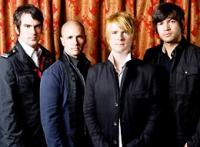 The Afters are funny … really funny.
Just ask them what they've learned since the release of their successful debut, I Wish We All Could Win (INO/Columbia).
"Long division," vocalist/guitarist Brad Wigg replies.
To which lead singer Josh Havens asks with a straight face, "Have you really?"
"Well, I've been working on the Rubix Cube," adds vocalist/guitarist Matt Fuqua. "I'm starting to comprehend it. How the colored sides are fixed, you can't change them. …"
In all seriousness, Josh rebounds, "I think we have learned a lot about our chemistry. … We have really learned how to be gracious to each other. We're like a family now. We love each other like brothers. … I think that we've also learned that we are not a band that writes music on the road very well. … We wrote our album during times that we had blocked off to be off the road. … I think we [refined] our sound, too."
"We have honed our skills on Call of Duty [WWII video game]," Matt interjects.
Okay, enough of that serious stuff. …
Drummer Marc Dodd adds, "Every tour that we're a part of, we at least recruit one member from each band to get hooked on it."
"It's nice to unwind shooting each other," says Brad.
This kind of unconventional humor mixed with the prolific is exactly what you get with The Afters—the perfect blend of candor and genuineness. You can't go five minutes with them without laughter … or coffee.
And speaking of coffee, the origin of this band takes us back to a Starbucks in Mesquite, Texas, where Josh and Matt started singing drink orders for extra tips. "People started asking, 'You guys really sound great together. Where can we [go to] a show?' We really hadn't thought about it," says Josh.
Hmmm … they would go on to score the theme song for 8th & Ocean (MTV's popular reality series), and they hadn't even thought about it.
Go figure.
Brad was actually a missionary at the time. When he started working at the same Starbucks, he was recruited. Marc just happened to work there, too. "It's a requirement for this band," quips Brad.
And while a common love for coffee, immense talent and creativity were not a problem, the band name took a bit more time to evolve. The original name? Screaming Mimes. Josh provides a disclaimer: "The whole concept was living out your faith … We were young, and Screaming Mimes sounded really cool to us at the time."
The band later changed its name to Blisse and began developing its local following in Dallas. After discovering numerous other bands held some form of this name, another search ensued, finally leading them to The Afters—an English term. "It stands for something that takes place after a formal get together or extravagant banquet," Josh explains. "If you can't afford to get all dressed up to go to the formal event, then they have the afters. Everyone's invited; it's not exclusive. Just come as you are. We liked the idea of that."
The title is fitting considering how they perceive their platform. "From the very beginning, we just wanted to play for anyone who would listen and because of that, we had a very diverse following," says Josh. "We hope to continue that as we move into the next record and be able to have music that hopefully builds up and edifies believers but then also is successful with people outside the church."
One listen to their brand-new album, Never Going Back to OK (INO/Columbia), and this vision becomes clear. The songs are tailor-made for mainstream, yet possess unabashedly bold statements of faith.
Have something to say about this article? Leave your comment via Facebook below!
advertise with us
Example: "Gen 1:1" "John 3" "Moses" "trust"
Advanced Search
Listen to Your Favorite Pastors