The New Life Starts Here
Jay Swartzendruber, CCM Magazine
Monday, April 19, 2004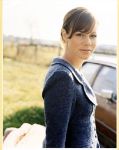 "Can I tell you a story?" she asks. Is she kidding? "Storyteller" is Sara Groves' middle name. And both in her art and in her life, Sara's stories are her language of choice.
With the March 23 release of her new album, "The Other Side of Something" (INO), Groves' melodic narratives are as deeply personal as ever. There's a good reason for this. 
Start by picturing Sara at the age of 4 – that's when the Springfield, Mo., native recalls a simple yet profound conversation with God in which she "wanted to know if Jesus would come live in my heart." As she puts it, "That was sort of the beginning of my journey."
True – 4 years of age would prove to be pivotal for Groves in other unusual ways. As her faith journey started, her pilgrimage as both a musician, via piano lessons, and a songwriter also began. "My mom has always been a songwriter, too," she says. "She's really artistic that way and does choir pieces occasionally for the church. I've always seen her writing music, so it was very natural for me to mimic her."
While Groves' songwriting didn't reveal its prolific potential before she was a young adult, the faith that informs it anchored itself throughout her childhood. As her parents made a focused effort to nurture a healthy, spiritual environment for their children, they also inadvertently created a family atmosphere that would enable Groves' potently relational songwriting style. "I think that comes from the home she grew up in," affirms her husband, Troy, who married Sara after they attended Evangel University in Springfield.
"What always amazes me about her songwriting is how she puts her finger on how to say what she needs to say, how to translate that in a sort of poetic yet lyrical way that just makes sense. Sara's folks are both educators, and lots of conversation goes on in their home. They're the kind of family that when dinner's done, things are just getting going. They will continue with the conversation at the table for hours. That's her foundation."
"I had been writing music all those years in college but hadn't matured in it," explains Sara, who now lives in Minneapolis with Troy and their two young sons. "I've always written from a therapeutic place, so a lot of the songs were really just long and rambling and exploring emotions. It certainly wasn't palatable for a larger audience. Then I started doing it more as a hobby and a craft and really enjoyed that. My father-in-law and my husband were the ones who said [my music] is for other people. They said, 'When you sing in church it ministers … let's make an album.' To me that was a very big deal because it was putting myself out there and acting like I wanted to do this. I never wanted to actually admit to someone that I wanted to do it. God just had to speak to me and say, 'False humility is worse than pride.' Every time someone gave me a compliment, my "Aw shucks" routine was not any more holy than just saying, 'Thank you. God gives good gifts.'
In the same way people often raise funds for a short-term missions trip, Sara's father-in-law drafted a letter asking about fifty of their friends and family to financially support her first studio endeavor. The response trumped the highest expectations, and "Past the Wishing," her first independent album, released in early 1998. Sara and Troy watched in grateful amazement as her music began to connect with a mass audience and attract the attention of record labels.
Have something to say about this article? Leave your comment via Facebook below!
advertise with us
Example: "Gen 1:1" "John 3" "Moses" "trust"
Advanced Search
Listen to Your Favorite Pastors