The New Life Starts Here
Jay Swartzendruber, CCM Magazine
Monday, April 19, 2004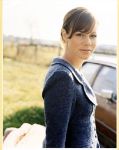 "As soon as we entered into the whole music industry, we very quickly had to get an education on how that worked," Sara says. "Troy was my defender. He started learning everything there was to know about the music industry – he became my lawyer, my manager, my booking agent … everything."
The next few years and a second custom CD, "Conversations," would see Sara establish herself as one of America's most well-received independent artists. After introductions to several recording companies were made, she and Troy found a kindred spirit in Jeff Moseley's artist-oriented label, INO Records (MercyMe, CeCe Winans). "When I first heard Sara's music, I heard it over the Internet, and I fell in love with it," says Moseley, INO's founder, president and CEO. "I got a CD, and I remember going home and talking to my wife. I looked at her and said, 'I think I've found an artist we need to work with.' And she listened to Sara's CD and said, 'You know what? You're right. She has to be heard.' For us Sara was truly a labor of love. Early on I remember thinking that it didn't matter how many records she sold; I felt like she was going to be important for the marketplace.
INO picked up "Conversations" and, adding two songs to it, distributed the album nationally as Sara's label debut. Sara soon landed a No. 2 pop hit at Christian radio with "The Word" and gained industry acclaim with a 2002 Dove Award nomination for "New Artist of the Year." And while INO had initially hoped Sara's re-issued indie album would sell 30,000 to 40,000 copies, "Conversations" actually went on to connect with more than 120,000 fans.
Two years, a second CD – "All Right Here" – and several radio hits later, and Sara's artistic stage would be primed for a breakthrough album. Just raise her production budget once again, let her do her thing, and she'd be good to go. Right?
Not so fast. This is Sara Groves we're talking about – what she lives is what you get. "The Other Side of Something" indeed.
Several months prior to Sara's record label debut, she and Troy had welcomed their first son into the family. Kirby, who's now 3 and a half years old, would become a focal point for unprecedented turbulence in Sara's relationship with God.
"I've been a believer all my life – I never rebelled," she begins to explain. "I never had a time in high school where I was rebelling against my folks or anything. I've always been really passionate about my walk with the Lord and wanted to represent God and represent my dad – who's a pastor – well. And I've always said [to God], 'Wherever, whatever, take everything. Make me, break me, send me to Timbuktu, whatever; but Your will be done in my life.' But when I had Kirby, suddenly, instead of just for myself, I was saying for him, 'Take him, make him, break him, whatever.' And I saw what 'whatever' meant in other people's lives around me. I was in a season of my life where a lot of God-fearing people – good people – were experiencing incredible hardship. A couple – friends of ours – lost an infant child, a girlfriend was having three miscarriages and just after my aunt had been reconciled with her son, he disappeared. They found his body in a field and still don't know what happened. He has two young boys.
"I had grown up thinking, 'If you do these things, then God will bless you this way.' And I was finding out through all these godly people in my life, who were following the Lord and doing these things – A, B, C – that hard things were still happening to them. "I don't know if this is the case with every new mom; but, for me, I started becoming 'mama bear' and really was on the defense against the Lord. I said, 'I want to know what I can land on because this son is my most precious possession. What are You going to do with him?' And I went to the Bible to find, 'You will always be safe.' That's what I thought I wanted. I wanted safety, and I wanted assurances that I would always be comfortable. Instead, I found Jonah running from God, Job scratching himself with a piece of clay and men plotting to kill Jeremiah. David, Paul, Peter – all of God's own – strung out, hurt, beat up, messed up, and I got so … I was hurt."
Have something to say about this article? Leave your comment via Facebook below!
advertise with us
Example: "Gen 1:1" "John 3" "Moses" "trust"
Advanced Search
Listen to Your Favorite Pastors