The New Life Starts Here
Jay Swartzendruber, CCM Magazine
Monday, April 19, 2004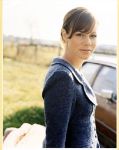 "Each camp has a name for the other one," she explains. "The one calls the other 'legalism,' and the 'legalism' camp calls the other one 'sloppy grace.' I ran into the arms of 'sloppy grace,' and I needed that message – that God loves me no matter what I do. But that camp tends to focus on our failing and falling. And so I spent a lot of time saying, 'Oh well … God made me; He knows I'm a sinner. I'm going to sin, fail and fall. And that's who God is – He's going to meet me and meet me and meet me.' I wasn't comfortable there either.
"This album is marking an epiphany that they're both true. God is calling me to a life of holiness, and He loves me no matter what. And somewhere in the middle of that is a new hope that blows away these two smaller hopes, that at the end of the day I am marked – I'm a child of God; and no matter what I do, He's not going to let me go. I am fighting the good fight, and it's not going to be determined by one action, one sin or one good work. It's going to be determined by finishing strong, and He's not going to let me go. And I just have to keep waking up every day and saying, 'My stuff is Your stuff, and I trust You.' And that's what the Lord has worked out in my heart these last two years. He's said, 'I want all your stuff, and your righteousness isn't in the balance every day. 'You've got a mark on your heart – you're My child. I've adopted you.'
"So that's what I'm on the other side of. I'm coming out of this legalism-grace war … And it's a great freedom and a great gratitude that He would keep teaching me."
"This whole album is trying to document that struggle for me – and hopefully that place of victory. And right now I'm in a place of extreme gratitude. I feel like I was in a fight with my best friend for the previous year and then this last year coming home, I just had time off the road; Troy and I had time to heal – we just had time to get back in our Bibles and hear from God. So we're coming out swinging … coming out of the corner, knowing that greater is He that is in me than he that is in the world. We're compelled to serve Christ, and I'm ready to go out in concert and give a rally call to all the people who are selling themselves out to smaller stories. We need to hear the call of Christ on our lives and to not just settle in but to pursue and live fully for Christ."
---
The Soundtrack
"Production-wise we went to make a 'movie,' instead of a 'play'," explains Sara Groves about her new album, "The Other Side of Something" (INO). "This time, I just said, 'You know what? I want to play. I want to have fun. And I'd like to add some other gifts into this.'
While Sara turned once again to her long-time friend and collaborator, Nate Sabin, to skillfully anchor most of the album's production, four of the CD's key tracks — lead single "The One Thing I Know," the hook-driven "Compelled," the empathy invoking "Esther" and the eclectic jazz epic "The Boxer" — would be helmed by Charlie Peacock (Switchfoot, Twila Paris).
"Sara and her husband, Troy, are the 'real thing,'" says Peacock. "It's so rewarding to work with people who love Jesus, good words, great art, family, goofing and just being human in general. I enjoyed producing Sara's music, but I'd pay her just to listen to her tell stories. You know it's good when you thank Jesus for creating particular people and with the Groves, I've done just that."
While Peacock's fingerprints artfully enhanced "The Other Side of Something," it was Sara's faith-deepening experience and beautiful knack for communicating truth through story that delivered the goods. In light of the past two years it might seem superficial for music critics or record label types to ponder the momentum of Sara's career and anticipate the timing of a potential "breakthrough" album. Regardless, one can't help noticing the far too uncommon intersection of relational depth, gutsy faith, optimism and tough love expressed via the fan-friendly folk-pop and the articulate, thoughtful lyrics on her new CD.
In describing the album, Sara says, "On other albums I strived to have different themes, make sure that two songs don't say the same thing. And this time I just let the songs just flop all over each other. I think that's because I was writing all this music from the same place." 


© 2004 CCM Magazine.  All rights reserved.  Used with permission.  Click here to subscribe.
Have something to say about this article? Leave your comment via Facebook below!
advertise with us
Example: "Gen 1:1" "John 3" "Moses" "trust"
Advanced Search
Listen to Your Favorite Pastors