The New Music Revolution
John J. Thompson, CCM Magazine
Friday, February 23, 2007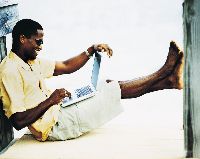 There's no talking about music these days without mentioning some kind of technological tool that didn't even exist a decade ago. Today, breakthrough artists are building international followings by the tens of thousands on Web sites such as MySpace, Pure Volume, Xanga and YouTube. Yesteryear's $200,000 recording budgets have been replaced by scores of hit records made for much less than $50,000 and recorded on laptops and in college dorms.
Fans are in on the act, creating their own Web sites, home-made videos and street teams to support their favorite bands. And label reps are signing bands based more on Internet action than club gigs.
Relatively few media options long made it possible – though expensive – to reach millions with a song or a brand. Digital compression, however, has changed all that. From wildly increased television options, to numerous digital radio alternatives and albums delivered instantly and electronically, it has become increasingly difficult to reach large audiences with a single message. On the other side of the equation, little guys now have access to millions of fans without spending millions of dollars. The Web has proven to be the great equalizer, giving fans more options, artists more access and traditional gate-keepers – such as labels, radio and retailers – some real competition.
A quick glance through the world of MySpace, the community-driven Web portal that, according to the company, started as a networking place for creative types and turned into as big a cultural phenomenon as MTV ever was, shows that anyone with a song, a computer and a little bit of desire can offer their wares up to the universe. But we're not talking all indie wannabes here – not by a long shot. Major, multi-million selling artists are embracing new tools such as MySpace and YouTube in a big way. Motion Picture companies are promoting blockbuster films there. DIY videos have become ad campaigns for brands like Coke and McDonalds. Christian artists have jumped in hard, and early, seeing new ways to reach out to a previously untouched audience and to keep in touch with their base of supporters at the same time. Sometimes those worlds collide, and sparks fly – just ask Skillet.
Win Friends and Influence People
The modern rock act has already found itself in trouble with parents and youth pastors a couple times, thanks to some of the public feedback the band has received within its MySpace community. Skillet's MySpace page (MySpace.com/SkilletMusic) currently boasts more than 50,000 "friends" – essentially a large opt-in network of people interested in the artist's work – and non-believing fans sometimes discover the site and post positive comments complete with the occasional expletive.
The blowback irritated front man John Cooper. "We want to reach out to the world and have a positive influence, and you can't [expect] these kids are going to be talking like Jesus when they don't even know Jesus!" he says. "It's the same with church. If we're doing the job we say we want to do, and getting non believers to come to church, then we're going to have some kids coming to church smoking cigarettes and wearing Slipknot T-shirts."
Popular bands such as Skillet aren't the only ones intent on making "friends" on MySpace. When it comes to breaking a new act, building a massive network of these friends has become more important than building a strong local following. Meanwhile, the importance of radio success (not even an option for many Christian artists) is fading as streaming music, podcasts and digital downloads increase in popularity. In fact, from the comments made by several major-label A&R reps, more bands are being discovered online than in concert these days.
Have something to say about this article? Leave your comment via Facebook below!
advertise with us
Example: "Gen 1:1" "John 3" "Moses" "trust"
Advanced Search
Listen to Your Favorite Pastors