The New Music Revolution
John J. Thompson, CCM Magazine
Friday, February 23, 2007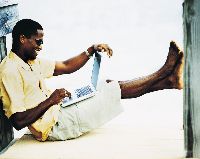 "The idea [for the video contest] was birthed out of the fact that we make our own videos," McDonald explains. "We started doing these little short clips for parts of the live show. We put them up on the Web, and we had an amazing response from people watching them. Then, all of a sudden, all these fans started posting their own videos of shows or of songs. We just rolled with it and thought it would be fun to see what kind of videos people would come up with if we did a contest." All involved were shocked by the response from the fans. "Not too many people I know even know how to make videos," McDonald says. "It's amazing to me that a hundred people took the time to make their own." Examples of these homemade works can be seen at ShawnMcDonaldMusic.com.
McDonald has a new plan for engaging his fans online. "We're working on a 'how-to' series," he adds. "We're going to make videos of how to play my songs and post them on the Web. We'll interact with the kids, tell a story about why a song was written and what it's about. Then I'll play the song in front of them and show them the chords." McDonald also handles all his own MySpace activity, including approving friend requests and answering particularly interesting questions.

This Must and Shall Go Free
Some might call him an anarchist, but Derek Webb is using the Internet to give away the farm. His critically acclaimed album, "Mockingbird" (INO), which has been hailed by influencers ranging from Jars of Clay and Sara Groves to authors Donald Miller ("Blue Like Jazz") and Brian McLaren ("A New Kind of Christian"), has been offered as a free download this fall for 90 days. In this era of illegal file sharing and peer-to-peer thievery, it may seem counterintuitive for an artist, with his label's blessing, to offer his work for free this way. But for Webb and his label, INO Records, it makes perfect sense.
"There are a certain number of people whose radar I'm on," Webb explains. "It's a respectable amount of people who buy my records. It's not a ton, but it's enough for me to make a living, and it's very satisfying." Webb believed, however, that there were more Christians out there who would be interested in his strain of music than could be notified by traditional Christian media such as radio and magazines. He and his label used personal referrals to give away as many copies of "Mockingbird" as they could in a 90 day period. Webb spent some serious time researching the issue of digital distribution and Internet trends and arrived at the conclusion that free digital distribution makes perfect sense if done correctly. "A lot of piracy laws have been enforced in order to protect artists like me, to make sure we get paid," he says. "I think it's been done with good intentions, but if the results are music fans feeling ashamed about sharing the music they love with their friends, then the whole piracy scare has done us all a great disservice."
Perhaps the most surprising part of this story is that Webb's record company went along with the idea. INO's Dan Michaels saw the logic straight off. "The way INO structures deals is unique," he admits. "And the fact that we are independently owned allows us certain freedoms or opportunities to zag when everyone else is zigging. Derek seemed like the right artist to pursue this grand experiment. One reason is that he has a strong and profound fan base that is very Internet savvy, and the other is the content of the record is something that we felt was a great message, and we were compelled to get it out."
Have something to say about this article? Leave your comment via Facebook below!
advertise with us
Example: "Gen 1:1" "John 3" "Moses" "trust"
Advanced Search
Listen to Your Favorite Pastors