Women in Christian Music: This One's for the Girls
Gregory Rumburg, CCM Magazine
Tuesday, November 21, 2006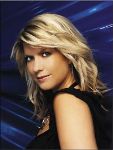 Claims of innocence tend to come from every corner. Release schedules reflect that record labels aren't signing as many female acts. "Consumers want bands," they retort. Off the record, a fraction of insiders point fingers at radio stations, saying programmers are playing fewer singles by women. Charts seem to bear that out. In fairness, that decision seems to be in response to consumer testing – station-directed surveys in which local listeners influence song rotation with their preferences. Presently, songs performed by women are not testing well.
Radio, retail, media – all just giving us what we want, right? And that's all we, as consumers, have ever really demanded.
But are industry decision makers really sure? Christian music's core demographic is women between the ages of 25-44. The Gospel Music Association recently reported the industry's primary audience is 30 percent more likely to be between the ages of 18-44 compared to the rest of the U.S. population. Are consumers actually saying "no"? Or are some just not getting the chance to have their preferences counted?
Then, there are the usual cultural obstacles. "It's very image driven," says Mary Mary's Erica Campbell about the music industry. "It's very much about being thin and being beautiful and about perfection. But the only perfect one is God." As with at-large culture, these issues loom more pointedly for female acts than for their male counterparts.
All these elements form a slippery slope for Christian music – a genre boasting that it is distinguished from all other music by being lyrically-driven rather than stylistically-driven. If industry decision makers are reticent to take chances on female acts due to popular demand and if conditions are not favorable for attracting new female talent, then Christian music's mission to draw people closer to God moves forward today with a bad limp.
All I Ever Have to Be
To a woman, each artist interviewed for this story had considerably more good to say about Christian music than not. What seems to unite this perspective is landing on a definition of success not driven by numbers or even accolades. Success, they suggest, happens when one has the chance to discover who God intends a woman or man to be in the present, constantly hurling toward a hopeful future.
For Mary Mary, that means pursuing that beloved scripture often quoted from pulpits on Mother's Day, Proverbs 31. "The God that is shining inside [you] is definitely the most important factor," Tina Campbell says. "If you don't have that, you are wasting your time."
"I think what was important for me was finding my voice," Natalie Grant says. "Not my singing voice, but finding out how to do something that matters with my life. I think, as a woman, I ask, 'How does that translate into my artistry?'" To that end, her songwriting voice is influenced by her experiences through her HOME Foundation, a campaign to raise awareness about international human trafficking.
Sara Groves, too, aims to continue her work toward social justice. She prefers to work with what's in front of her instead of fighting for what isn't available. For her, that means zeroing in on developing one's character.
"The women I really respect are women who know who they are in Christ and who have that ability to nurture everything around them to be better," she says. "That can be the gentle power of women." Sara remembers meeting Christian music's most influential artist, Amy Grant, for the first time. "The thing I was so struck with was her gentleness. She was so kind and gracious."
For BarlowGirl, finding success used to mean practicing as a band 50 hours a week so they could play as well as guys, Rebecca Barlow says. Now it means being faithful to God's calling. Rebecca explains that this begins with one's heart.
Have something to say about this article? Leave your comment via Facebook below!
advertise with us
Example: "Gen 1:1" "John 3" "Moses" "trust"
Advanced Search
Listen to Your Favorite Pastors