Worship Music: Here to Stay
Robert Mineo, CCM Magazine
Wednesday, December 01, 2004
No one can disagree at this point that worship music, as a genre, is still a veritable force in the Christian music industry. After all, when the industry's top-selling artist stops to make not one but two worship records, which garner platinum success, all arguments are off (Michael W. Smith's "Worship" and "Worship Again," anyone?). But Michael isn't the only one who's crossed genres. A-list artists such as Newsboys, Third Day, Rebecca St. James, Caedmon's Call and many, many others have recorded vertically minded recordings that have gone on to register as some of the top-selling albums in the past few years. Even CCM's own Reader's Choice ballot has included a "Favorite Worship Artist" category both last year and this year (See CCMmagazine.com to vote!).
So why has this genre gained so much popularity? There are many theories out there: Other genres were in a slump, every Christian music fan can identify with worship music, or the surge of the modern worship movement in churches has sparked its prevalence and on and on. Charlie Peacock ("Everything That's On My Mind") penned a column for CCM back in August about this very thing. "The real worship business is 24/7, all directions, all the time, gladness of heart and praise for everything," he wrote. "It is not something that experiences popularity then wanes. It is not a market share. Instead, it governs and is the reason for all good markets."
Whatever the reason and whatever the definition, worship is here; and it's here to stay. For that we can all be grateful, as the worship movement has opened doors for mass exposure to talented artists, such as the ones written about here, and worship songs currently being sung in our sanctuaries.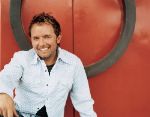 Chris Tomlin: Almost Famous
Chris Tomlin may not be a household name, but there is a good chance you sang one of his songs at your worship service this past week. Tomlin's tunes, including "Forever," "We Fall Down" and "Famous One," are among the most widely used by contemporary churches across the globe. In fact, Tomlin has registered five songs in the Top 500 on the Christian Copyright Licensing International (CCLI) Charts (a record of songs played in churches across the country), with two in the Top 20. And his newest release, "Arriving," had just released with an extremely impressive 22,000-plus sold at press time during its first week out. While these numbers would be good news to any artist, when you look at debut week sales for Tomlin's first release, "Not to Us" ("Arriving" more than quadrupled sales), it proves all the more just how popular this young worship artist is becoming.
With that kind of clout, you wouldn't think he'd have had trouble getting the producer he wanted onboard to helm. But that wasn't the case when Tomlin asked Ed Cash (Bebo Norman, Caedmon's Call, Bethany Dillon) to take on the project. According to Tomlin, Cash didn't think modern worship songwriting was up to par with "regular" songwriting; so he was hesitant to sign on. But Tomlin eventually convinced him, and the result is what Tomlin describes as his personal "best, without a doubt."
"I just wanted someone who really had a passion for the songs, not someone who just can make it sound good and has great bells and whistles," he explains. "Ed Cash was that guy for me. He's a great songwriter himself with great ideas, and he really brought out the best from the band as they played. He really caused me to grow because he challenged me to write the very best songs I could that would stand up to any song out there. There were amazing times in this recording where we would just get lost in worship to God and moments with God that were really beyond the songs."
Have something to say about this article? Leave your comment via Facebook below!
advertise with us
Example: "Gen 1:1" "John 3" "Moses" "trust"
Advanced Search
Listen to Your Favorite Pastors