Staub's "Culturally Savvy Christian" a Standout Effort
Matt Winslow, Infuze Magazine
Thursday, April 05, 2007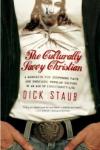 Author: Dick Staub
Title: "The Culturally Savvy Christian"
Publisher: Jossey-Bass
One of Christ's statements, as recorded in the Gospels, is that we are to be in the world, but not of the world. That sounds simple enough, but exactly what it means has been the object of debate for two thousand years now. In our post-Christian culture, the relationship of Christian to the world has become particularly accented, especially within evangelical circles where the relationship between the world and the church has historically been one of antagonism and withdrawal. However, much of Protestantism is moving into what has been called a post-evangelical era and so there is fairly regular discussion as to what it means to be a culturally relevant Christian in a post-Christian world.
Cultural commentator Dick Staub is the latest to throw his hat in the ring and attempt to define the Biblical parameters of this relationship. In "The Culturally Savvy Christian," Staub defines the culturally savvy Christian as one who is "serious about faith, savvy about faith and culture, and skilled in relating the two." By structuring his book around this definition, Staub manages to make his book stand out from similar attempts.
First, he deals with what it means for a Christian to be savvy about faith and culture. He begins first by analyzing the culture we are in. By doing this, before he has defined the faith we are in, he allows himself the room to discuss popular culture without having to relate it back to faith at every single step. As we'll see, this is one of the strengths of Staub's book: he gives us the tools with which we can forge a solution, but he doesn't attempt to define that solution for us. For Staub, popular culture (which is the culture we live in) is preacher, teacher, storyteller, and community and identity shaper.
Popular culture, however, has some serious problems. First, it creates what Staub terms "spiritual delusions." That is, popular culture today talks a lot about spirituality, but there isn't much behind that discussion. Not only does spiritual seeking not require God, but it carries with it the assumption that spirituality is good while religion is bad (with an exception for exotic religions, which results in Christianity being despised, but every other religion glorified). Further, the eclectic is good and relativism is praised. Without even discussing Christianity's relationship to popular culture, Staub is able to conclude that popular culture is crippling people's souls by substituting a pale and flaccid "spirituality" for a real and meaningful religious experience.
Staub moves next to "the Christianity that we are in." Here he details the different ways the Christian communities are attempting to deal with culture. He borrows heavily from Reinhold Neibuhr's monumental work, "Christ and Culture," and its categories for the different responses of Christianity to culture: cocooning, combating, and conforming to culture. Before turning to how the Christian is to be serious about faith, Staub describes 'the story we are in', a look at Biblical anthropology, that is, the fallen state of man.
This segues into the next major section wherein we are shown how culturally savvy Christians are to be serious about faith. It was this section that really made the book stand out from other books about the Christian response to arts. Too often Christian responses to the arts fall into one of two categories: the Christian element is assumed and the resulting work is pale and insipid, not really discussing a Christian relationship to the arts, but merely a moral one. Or, the Christian element is emphasized so heavily that there really is no taking on of the arts on their own terms. Staub carefully manages the narrow road between the two extremes by taking both sides of the equation seriously.
Have something to say about this article? Leave your comment via Facebook below!
advertise with us
Example: "Gen 1:1" "John 3" "Moses" "trust"
Advanced Search
Listen to Your Favorite Pastors