What Rowling Said about Dumbledore
Jim Hamilton, Professor of Biblical Theology at The Southern Baptist Theological Seminary
Tuesday, April 02, 2013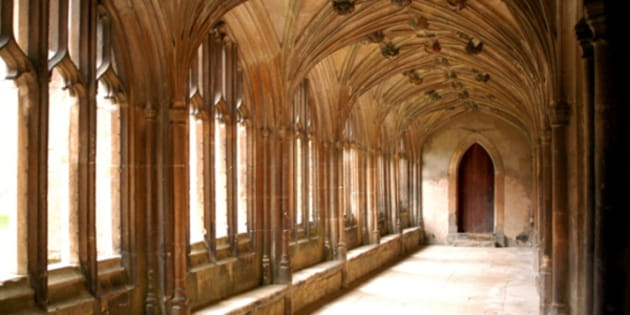 Had Rowling not told us Dumbledore was gay, we would never suspect it. We would have seen Dumbledore as the self-sacrificial, wise, good hero that he is. And we would be right. Now let's move from the surface, from what we can know from reading the novels for ourselves, below the surface, to what we might suggest about what Rowling shows in the novels now that she has given us this tidbit about her conception of Dumbledore.
I want to make three suggestions here: first, Dumbledore seems to have chosen a life of celibate singleness. Second, Dumbledore seems to take steps to protect himself and others from his own harmful impulses. Third, Rowling is therefore implicitly presenting Dumbledore as a heroic model for how those who struggle with same sex attraction can nevertheless be good and true.
First, Dumbledore has no partner. Rowling indicates that he had a dalliance in his youth, a dalliance that involved a plan to raise up a new world order, likely extending to a redefinition of sexual morality. While Rita Skeeter and other slanderers use Dumbledore's youthful mistakes to call his character into question, the characters in the novel who see the truth understand that while Dumbledore may have forayed into those waters in his youth, he fled them and spent the rest of his life fighting those floods. Dumbledore seems to have learned from his own past, and he seems to view his youthful involvement with Grindelwald as a mistake.
As a result of his own mistakes and his awareness of his own weaknesses, he is prepared to extend mercy, to give second chances to the likes of Rubeus Hagrid and Remus Lupin. He even trusts Severus Snape. Dumbledore is a great man not because he looks at people's wickedness and trusts them anyway. He is a great man because though aware of people's past wrong choices, he is willing to give them new chances to make the right choices.
I would add that Dumbledore is fully prepared at all times to accept responsibility for his mistakes, for his own wrong choices, and he confesses them and repents. His desire in giving second chances is a desire for others to recognize their own wrongs, turn from them, and do right in the future.
Second, think of the way that Dumbledore protects himself and others from his own weaknesses. In chapter 37 of Harry Potter and the Order of the Phoenix, Dumbledore explains to Harry that he distanced himself from Harry to keep Voldemort from exploiting any perception that their "relationship was—or had ever been—closer than that of a headmaster and pupil." Dumbledore explains that had Voldemort known of his love for Harry, Voldemort would have used Harry against Dumbledore.
There is nothing in the book at this point that would lead anyone to the conclusion that Dumbledore might have felt inappropriate, perverse desires mixed with his appropriate love for Harry, but the passage takes on deeper, unstated meaning in light of what Rowling has told us about Dumbledore's inclination. In fact, what Rowling has told us enables us to see Dumbledore as more heroic, not less. There is not the slightest hint that Dumbledore used his position as headmaster of Hogwarts to gratify his own desire. There is every indication that Dumbledore recognized ways that magic could be used in the service of illicit pleasures and he opposed all such use of magic—think of the way that Dumbledore warned Harry of the temptation presented by the Mirror of Erised.
All this leads me to think that what J. K. Rowling is celebrating is not homosexuality but virtue as traditionally conceived. Virtue is not the redefinition of sexual morality away from biblical norms, away from the dictates of nature. Virtue is the rejection of wicked desire, desire that would lead us away from biblical norms. Virtue is choosing the true, the good, and the right, even if—precisely when!—what we want is the false, the bad, and the wrong. Albus Dumbledore is heroic because he is virtuous, because he is Christ-like, because he is a celibate single who refused and repudiated his own immoral impulses.
Have something to say about this article? Leave your comment via Facebook below!
advertise with us
Example: "Gen 1:1" "John 3" "Moses" "trust"
Advanced Search
Listen to Your Favorite Pastors