August 25
For sin shall not be master over you, for you are not under law but under grace. - Romans 6:14
President Lincoln understood the ruin slavery was bringing to individuals, families, and the nation, and, in 1863, issued the Emancipation Proclamation, freeing the slaves. But it took a long time for the declaration of liberty to reach the scattered plantations and slave quarters. Even when I was a child in the Deep South, signs marked facilities for "White" and "Colored." Let the word go out that the old slave master of sin has been defeated by Jesus Christ. Humanity's Emancipation Proclamation has been signed with His blood.
Click here to sign up for your free Winning Walk newsletter!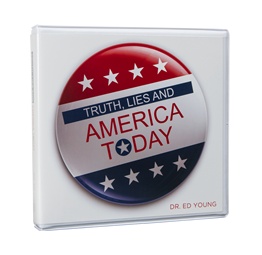 Our Gift to You - Truth, Lies, and America Today CD Series
Truth, Lies, and America Today is a bold and controversial three-message series that lays bare the lies American society has come to accept as truth: lies about morality, the role of the church, the role of government, the sanctity of life, and more. Dr. Ed Young shares the steps all believers can take to reestablish God's truth in their home and community and to rebuild a moral foundation upon which our nation can stand and flourish!