August 26
If we confess our sins, He is faithful and righteous to forgive us our sins and to cleanse us from all unrighteousness. - 1 John 1:9
Without the concept of sin there is no understanding of forgiveness. Without forgiveness, there is no resolution of our deepest needs and anxieties. God doesn't call us to confess our sins because He wants us rolling in guilt, but because until we acknowledge the problem we can't be cured. Denial is imprisoning. But when there is honest confrontation with our personal sins, there is the release of forgiveness and grace from God, who alone is holy and has the authority to put away our guilt.
Click here to sign up for your free Winning Walk newsletter!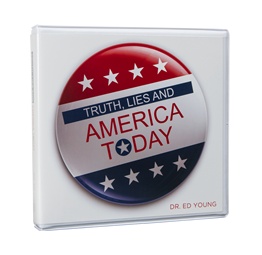 Our Gift to You - Truth, Lies, and America Today CD Series
Truth, Lies, and America Today is a bold and controversial three-message series that lays bare the lies American society has come to accept as truth: lies about morality, the role of the church, the role of government, the sanctity of life, and more. Dr. Ed Young shares the steps all believers can take to reestablish God's truth in their home and community and to rebuild a moral foundation upon which our nation can stand and flourish!