August 30
For those whom He foreknew, He also predestined to become conformed to the image of His Son, so that He would be the firstborn among many brethren; - Romans 8:29
When I was a boy our small community didn't qualify for Ringling Brothers, but a small circus visited us annually. I remember especially a toothless, defanged bear, dancing at the end of a chain. Decades later I remember how "unbearish" he looked. We're like the poor animal. Sin diminished God's image in us. The promise of God is that we are going to be brought back into the fullness of our being, which is conformity to Jesus Christ. We will no longer be less than what God designed humans to be because we will be conformed to all Jesus is.
Click here to sign up for your free Winning Walk newsletter!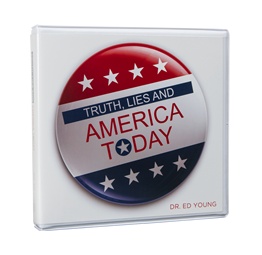 Our Gift to You - Truth, Lies, and America Today CD Series
Truth, Lies, and America Today is a bold and controversial three-message series that lays bare the lies American society has come to accept as truth: lies about morality, the role of the church, the role of government, the sanctity of life, and more. Dr. Ed Young shares the steps all believers can take to reestablish God's truth in their home and community and to rebuild a moral foundation upon which our nation can stand and flourish!